---
The Valentine's Day Store
Layla Osberg - Jan. 30, 2019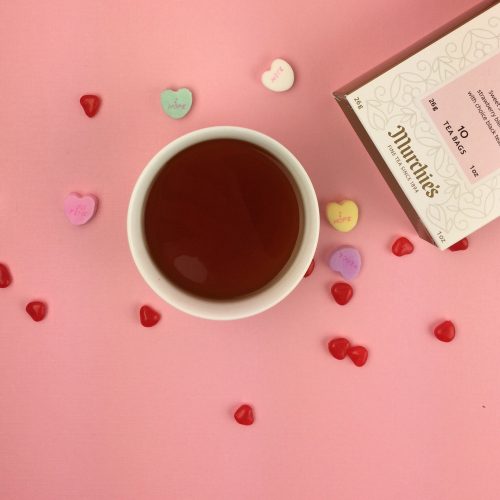 We have everything you need in our Valentine's Store to create a special day for your special someone. Sweet treats, coffee, tea and gift sets to share with friends and family.
Our gift ideas include White Chocolate Cranberry Biscotti, Cinnamon Coffee, Strawberry Tea or plan a 'Gal'entine's Day with your bestie and bring along a Mini Tin Pair- one for you, one for her!
Shop All here
Sweet gifts can say "I love you in" so many ways. We've got your Valentine's baking covered.
Are you staying in for a romantic home-cooked dinner for two? Our After Dinner Blend filter grind coffee is a rich brew that is low in caffeine with a hint of chocolate. Perfect for sipping after a late meal.
Break out of your everyday routine and add a little spice to your cup. The cinnamon heat in our Cinnamon Roast is reminiscent of candy hearts from Valentine's past.
The perfect coffee for the Valentine with a sweet tooth.
Crème Brûlée Coffee or French Vanilla Coffee
Brew a pot of romantic dessert coffee for your sweetie.
Spend a cozy night in with this satisfying herbal tea
Darjeeling Estate and Darjeeling Pure
The champagne of teas!
The perfect gift for the chocolate lover in your life.
Celebrate Valentine's Day with a real adult treat tea.
This tea is reminiscent of the most romantic place on earth.
Give the gift of this special tea - Better than flowers!
Pamper your love with this luxurious herbal tonic. Maybe tuck in a gift certificate for a spa day, too.
A bottle of champagne and strawberry tea and you're set!
Indulge your Valentine with fine tea and yummy treats!
The perfect gift for the newly engaged.
A special black tea to for your Valentine.
Planning a 'Gal'entine's with your bestie? These mini tin pairs are a perfect gift for two
Instead of a bouquet of flowers give your loved one a beautiful collection of floral teas.
You go together like tea and jam!