---
How to Make Golden Milk
Layla Osberg - Jan. 15, 2019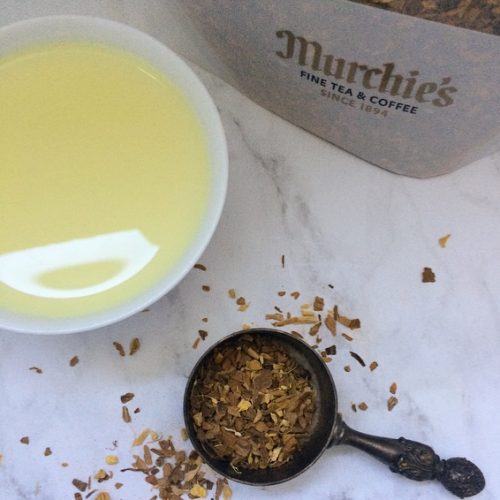 In the new year we start to crave healthful, tasty and comforting foods and beverages. Most of us feel we have over-indulged over the holidays; we've had enough sweet treats and gravy on everything, for now. Home cooks who were slow roasting, baking and snacking on rich cheeses and charcuterie washed down with hot chocolate, cider or maybe too much wine are in need of fresh flavours and a kickstart to their routine.
Of course, what we need in our lives now is something different. Fresh, new spices and herbs to add to our repertoire. Which brings us to this beautiful recipe for Golden Milk made with Murchie's Turmeric Elixir. Golden Milk has a rich tradition of use dating back thousands of years. Within the ancient form of medicine in India known as Ayurveda, Golden Milk is a tonic that's meant to be nourishing, while also tasting delicious. Murchie's Turmeric Elixir is a pure herbal blend of cinnamon, ginger, cardamom, clove, black pepper and turmeric conveniently blended to simply scoop into your milk of choice to create this comforting beverage. Please enjoy!
INGREDIENTS
2 Cups Milk , dairy, almond, cashew, or coconut
2 Tablespoons Murchie's Turmeric Elixir
1 Teaspoon Sweetener of choice , optional, use more if needed. Honey is wonderful in this recipe
Lemon Wedges , optional
INSTRUCTIONS
Put all ingredients in a saucepan (except sweetener) and heat. Gently simmer for 3 minutes. Remove from heat. Strain as you pour into cups and add sweetener if you wish.