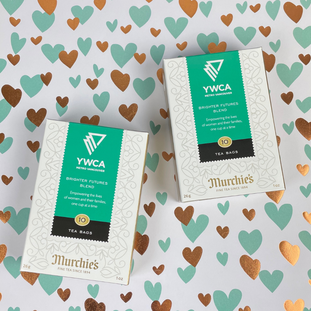 Empowering the lives of women and their families, one cup at a time.
Murchie's has great respect for YWCA's initiatives to provide support and opportunities for single mothers. In our business ventures we have been fortunate to work with a number of single moms who have been hardworking and dedicated employees. Women raising children alone face many difficulties in trying to balance a career and provide the best for their families. The idea of providing a hand up to women who are interested in improving their situations is an effort that we really get behind! YWCA programs such as single mothers' support groups can really make a difference, and we're proud to provide our support, even in a small way.

Blended for Metro Vancouver YWCA, Brighter Futures is a traditional, robust black tea, but with softened edges. Great enjoyed neat, it can also be brewed stronger to be robust enough for the addition of milk and sugar.

$1 from the sale of every 10 tea bag box of this blend will be donated to YWCA in support of their initiatives for women.

About YWCA

Since its inception in 1897, YWCA Metro Vancouver has worked tirelessly to achieve women's equality. Today, they are one of Metro Vancouver's largest and most diversified non-profit organizations. Their holistic, integrated programs and services help lift women and families out of poverty, provide the best start for children and create new opportunities for education, employment and leadership. Their mission is to touch lives and build better futures for women and their families through advocacy and integrated services that foster economic independence, wellness and equal opportunities.