---
10 Teas That Will Delight Mom on Mother's Day
Layla Osberg - May 1, 2018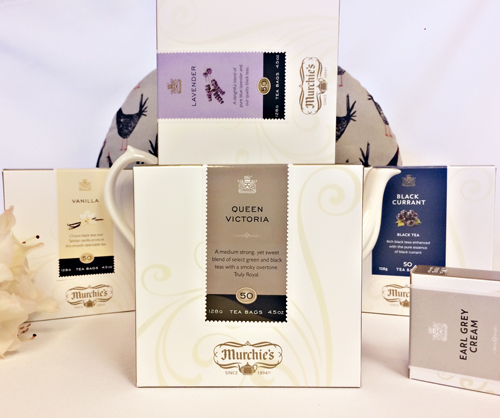 You will definitely find Mom's new favourite tea on this list!
This Might Change The Way Mom Drinks Tea – This blend of rich, smooth black teas enhanced with the zesty essence of black currants is warm and comforting in the morning and uplifting in the afternoon. Suggest that Mom try it as a refreshing iced tea. Available in loose tea and tea bags.
A Little Something Special For Mother's Day – A blend of Ceylon and Keemun black teas forms a robust base for the addition of sweet, exotic vanilla. Wonderfully smooth and comforting. Available in loose tea and tea bags.
For Moms Who Love To Entertain – Our Garden Party Collection contains five blends of loose tea: Earl's Picnic, Magnolia Oolong, Victorian Garden, and Rose Congou. Boxed and ready to give, better than a bouquet of flowers!
An Extra Special Earl Grey For Mother's Day – The full bergamot flavour of a traditional Earl Grey, plus creamy, soothing vanilla. Available in loose tea and tea bags.
Show Her Who's Queen Today – First blended in honour of Queen Victoria, this is one of Murchie's oldest blends: rich Darjeeling and Ceylon, smoky Lapsang Souchong and sweet Jasmine. Truly timeless. Available in loose tea and tea bags.
A Must Try For Moms Who Love Carrot Cake – An aromatic rooibos with the irresistible character of warm carrot cake, including notes of cinnamon, ginger and cream cheese icing. A yummy caffeine-free treat!
SENCHA SUPREME GRADE LOOSE TEA
Show How Much You Appreciate Mom's Excellent Taste In The Finer Things In Life – A high quality, traditionally steamed green tea from Japan - marine, delicate and sweet.
Treat Mom Like Royalty – Originally blended to honour Queen Elizabeth II's Silver Jubilee in 1977 and reintroduced in 2002 for her Golden Jubilee. This is a classic, rich black tea in true English fashion. Available in loose tea and tea bags.
Is Mom A Fan Of Earl Grey? Introduce her to something new that you know she'll love! Invigorating lemon and bergamot add a zing to this delicate black and green blend. A new take on a beloved classic.
Help Your Mother Relax After A Busy Day With A Hot Cuppa – Our version of Lavender Earl Grey: a delightful blend of pure lavender and quality black teas, with a touch of bergamot citrus. Soothing and aromatic, perfect for a relaxing cup! Available in loose tea and tea bags.