---
This rooibos blend tastes like sweet, creamy carrot cake, still warm from the oven and with cream cheese icing just spread on top. The lingering carrot and sweet notes makes this a tasty caffeine-free dessert tea!
Ingredients: Rooibos (red and green), honeybush, raisins, carrot, cinnamon bark, white chocolate, candied ginger, safflower petals, natural and artificial flavouring.
Allergen warning: Contains milk and soy.
Warning: Safflower is not recommended for pregnant women.
| | |
| --- | --- |
| Caffeine | Caffeine-free |
| Cup Strength | Medium-Strong |
| Origin | Blend |
| Type | Herbal/Rooibos |
The enticing aroma and taste of carrot cake! Review by Julia
I ordered a sample for my husband, who loves the actual cake. He fell in love with the tea (as did I), so I ordered a full pound on the spot. It has a rich, delicious flavour and a heady carrot-cake aroma; it's excellent with a little cream, and you can boost the delicate natural sweetness with sugar if desired. Because rooibos is so forgiving, I usually steep it a good 7 minutes or so to extract maximum flavour; there's never any bitterness. Highly recommended for anyone who loves carrot cake, flavoured rooibos and sweet/spiced teas in general. P.S. Although I can "heart" this tea on the page itself, due to some site hiccup it just won't show up on my Favourites list, which is funny as it's actually my #1 right now!
Posted on 2022-01-04
All the pleasure, none of the guilt Review by Rebecca
I put a splash of whole milk in and it's an even creamier carrot cake flavor - like a carrot cake cheesecake. This is my comfort drink when I need a lift without caffeine or calories.
Posted on 2021-04-19
Holy Smokes! Review by Christine
Wow!!! I have not had a piece of carrot cake in so long and this carrot cake roobios tea did not disappoint. What a delicious guilt free treat. The first smells I get when opening the bag is an immediate hit with decadent caramel, raisin and cinnamon notes. I smell a rich and dense cake brewing. First sip I taste sweetness from the raisins and a perfect balance of ginger and cinnamon ...very reminiscent of a carrot cake. I had my first brew straight and hot ... I'm certain this tea will be equally delicious as a latte. Will be a new staple in my pantry for sure!
Posted on 2020-04-25
OMG! LOVE THIS TEA!!!!! Review by craft cheeze
I'm not able to have sweets anymore so this tea does the trick. It feels like a low-calorie, healthier dessert in every cup. LOVE THIS!!!
Posted on 2020-02-03
Best Rooibos! Review by Gloria
I disvoovered this recently when I bought a two oz bag for my son's stocking. We all love it! Went back and bought a pound bag. Really delicious hot or cold! I hope this isn't considered a seasonal tea because I'm going to need it year round. A real treat.
Posted on 2018-01-15
Delicious Review by the smiths
A must have tea. Best I've had
Posted on 2017-11-29
One of Murchie's Top Ten Review by Sheri
I began cautiously, with a 2 oz sample. Tea that tastes like carrot cake? Are you kidding? Now it's my favorite evening tea, and I'm stocking up. It's smooth, flavorful, not too spicy. The tiny candies dissolve to add the cream cheese flavor and hint of sweetness, great for those who like flavor but dislike sugary drinks and even tea with sugar.
Posted on 2017-11-24
One of the best Review by Bubby
Love this tea. My sister and I recently visited Vancouver and stopped in to refill our tea supply. We were introduced to this tea by Pegar on the Lonsdale location - it is fabulous! We bought several bags to take home and share with friends and family. wonderful flavor, smells of sweet honey and cinnamon, but not too overpowering. subtly sweet, but not artificial tasting. smells like a pie is baking in the oven. I really love it and I think you will too!
Posted on 2017-09-29
---
Write your Own Review
You're reviewing: Carrot Cake Rooibos Loose Tea
Flavour Profile Guide
Tea and coffee tasting is a very individual, multi-dimensional experience: one person's perfect cup can be too strong or weak, too brisk or watery for the next person. At Murchie's, we believe that the best tea or coffee is the one that YOU like the best! We use the following flavour profile guides to help compare our teas and coffees within a relative scale.
---
Tea Strength Ratings
This rating method indicates the strength of flavour each tea has when brewed according to our brewing guide.
| | | |
| --- | --- | --- |
| RATING | | RATING PROFILE |
| | | Light/Delicate: Very light in colour and delicate in flavour |
| | | Medium: Medium-light cup with slightly fuller cup |
| | | Medium-Strong: Medium-dark cup, medium body, and full flavour without harshness |
| | | Strong: Full body, rich cup, takes milk well |
| | | Very Strong: Rich, dark cup with very full, strong flavour and briskness |
---
Coffee Ratings
We rate the flavour properties of our coffees along two dimensions: roast and body.
Roast is simply a result of how long and how hot the beans have been roasted, which can be seen in the colour of the finished bean, and typically results in general flavour traits:
| | | |
| --- | --- | --- |
| Light Roast | | More acidity, brightness and a slight pucker |
| Medium Roast | | Slightly richer flavours, some acidity, enhanced creaminess |
| Dark Roast | | Distinctive roasted flavour, sometimes notes of toasted sugar or charcoal |
Body is the term used to describe how the brewed coffee feels in your mouth:
| | | |
| --- | --- | --- |
| Light Body | | Easy to drink with little lingering flavour, 'thin' or 'clean' feeling on the palate |
| Medium Body | | Heavier, creamier mouth-feel with more lingering flavour |
| Full Body | | Rich, full-mouth feeling: hits all of the palate and lingers |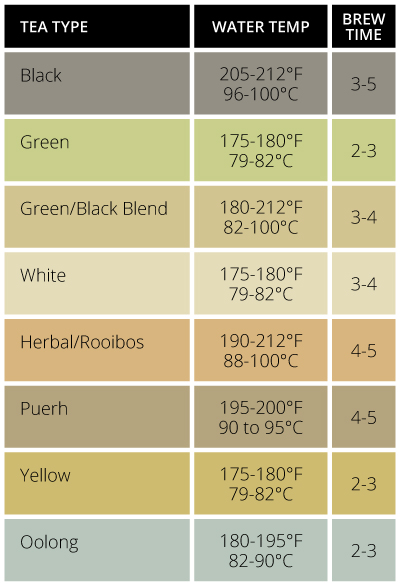 Tea Brewing Guide
Different types of teas should be brewed according to certain times and water temperatures to bring out their best flavours. Use this guide as a starting point, and then experiment until you find the perfect brewing method for your favourite tea.
Based on approximately one level teaspoon (2.5g) of loose tea or one tea bag per 6-8 ounce (180-240ml) cup. For stronger flavour, add more tea. Brewing for longer may increase the strength of the tea, but will likely also cause bitterness.
Brew times shown in minutes.
---
Coffee Brewing Guide
The simplest methods for brewing coffee are drip coffee, pour over and French press. These guidelines are a starting point; modify the ratio of coffee to water, the grind, and brewing time to your taste. If your coffee is not strong enough, increase the proportion of coffee per cup of water, grind the beans finer, or allow them to brew longer – or any combination of these factors. If your coffee is too strong, simply do the opposite.
Drip coffee or pour over method: hot water is gradually poured over coffee grounds and slowly drips through
Fine to medium grind coffee
1.5 to 2.5 tablespoons of coffee per cup of water
French press:
coffee grounds are 'steeped' in hot water, and then a filter presses down the grounds, allowing the finished coffee to be poured off
Coarse grind coffee
1 to 1.5 tablespoons of coffee per cup (e.g. 4-6 tbsp for a 4-cup French press)
Pour about 1/3 of the water over the coffee grinds; wait about 30 seconds and then pour in the rest
Wait 4-5 minutes, then push down the plunger to separate the grounds from finished coffee, and enjoy!
---