---
Tea Cocktail Recipes!
Layla Osberg - July 30, 2019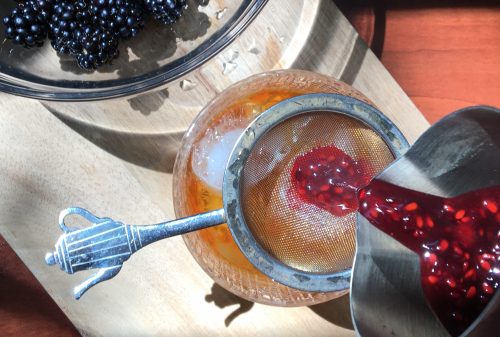 There's nothing we love more in summer than dreaming up fun seasonal recipes for our favourite teas. To be honest, we're actually thinking of tea recipes all year long! But in summer, there's nothing more satisfying and easy to make than a perfect tea cocktail. And one in-hand on a sunny patio? Perfection! We're currently loving these cocktails using a tea from each category, Black, Green, Rooibos and Oolong.
Any of the following cocktails can be made alcohol-free and would be equally as delicious. Hope you enjoy!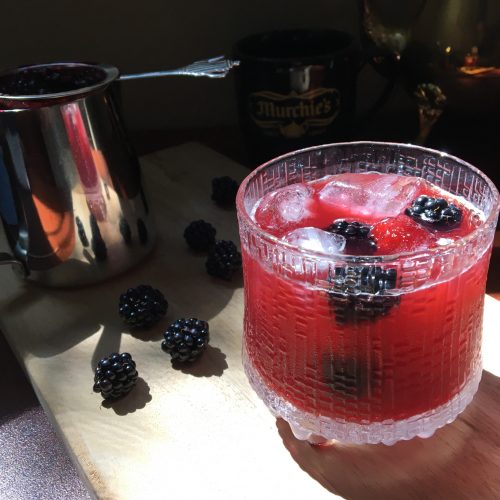 Blackberry Bramble
Ingredients:
1 oz gin
4 oz Black Currant Tea
1 oz blackberry sauce
Blackberries and lemon for garnish
Preparation
Gently cook a handful of blackberries with sugar. Strain.
Make tea with 2 tea bags and 6 oz hot water. Steep 3 mins.
Add the strained tea into a shaker with ice and shake.
Fine-strain into an Old Fashioned glass over crushed ice.
Lace over top with the blackberry sauce
Garnish with a lemon half-wheel and a fresh blackberry.
Matcha Mojito
Ingredients:
Matcha liquid sugar
1/4 cup sugar
1/4 cup water
1 teaspoon matcha
For the drink
12 fresh mint leaves, plus 1 large sprig for garnish
2 tablespoons fresh lime juice
2 tablespoons of matcha liquid sugar
1 cup crushed ice
1 1/2 ounces light rum
2 ounces club soda
Preparation
To make the matcha liquid sugar, combine sugar and water in a small saucepan over high heat. Bring to a boil and whisk until completely dissolved. Remove from heat. Spoon matcha into a small bowl, add the liquid sugar, and whisk until smooth. Place in a container and refrigerate until cool.
In a 10-ounce glass (such as Collins or highball), muddle the mint leaves. Add the lime juice and 2 tablespoon matcha liquid suagr and stir. Fill the cup with ice, then add the rum and top with club soda, stir well. Garnish with a sprig of mint.
Pomegranate Rooibos Aperol Spritz
Ingredients
2 tablespoons Pomegranate Rooibos tea or 4 tea bags
1 litre cold water
Sugar (to taste)
2 oz prosecco
1/4 oz Aperol
Preparation
Bring water to a boil. Steep tea for 15 minutes.
Remove tea, sweeten to taste.
Refrigerate.
Fill half stemmed glass with tea. Add Aperol. Stir. Top with prosecco.
Garnish with orange wedge.
Smokey Michelada
Ingredients
sea salt, for rim
1 teaspoon Tabasco sauce
1 teaspoon Worchestershire sauce
3 tablespoons freshly squeezed lime juice, plus spent lime wedges for rim
1/4 cup steeped Queen Victoria tea or Lapsang Souchong
1 small lager
Preparation
Sprinkle salt on a plate that is wider than your cup.  Rub lime around the rim of the cup and press the rim into the salt. Mix Tabasco, Worchestershire and lime juice in the bottom of the cup and then fill the cup with ice. Pour in the tea and then top it up with beer.
Oolong Island Iced Tea
Ingredients
2 tablespoons of Magnolia Oolong or Oriental Beauty Oolong
1 tsp Honey
2 sprigs of Fresh Mint
25ml-50ml Spiced Rum
2 Orange Slices
Lemon Juice to taste
Preparation
Brew a cup of strong Oolong tea and leave to chill. Pour the cooled tea over ice and stir in the remaining ingredients, adding an appropriate amount of rum as preferred. Add the orange slices and lemon juice to taste - enjoy!
Add the strained tea and lemon juice  into a shaker with ice and shake.
Fine-strain into an Old Fashioned glass over crushed ice.
Lace over top with the blackberry syrup.
Garnish with a lemon half-wheel and a fresh blackberry.