---
Iced Coffee Horchata
Layla Osberg - July 16, 2019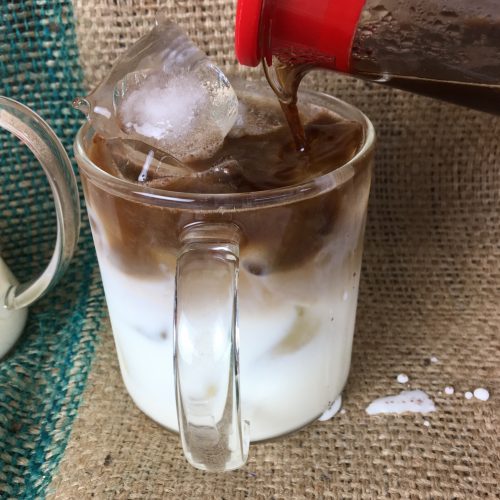 If you've never tried Horchata, an extremely satisfying beverage popular throughout Latin, West African and Mediterranean countries, you're seriously missing out. This hot weather staple is flavoured with cinnamon and vanilla, and typically made with plant-based milk such as rice milk. Most importantly, though, it tastes great with some strong iced coffee stirred into it.
For this recipe we recommend a medium roast like Murchie's Best. If you're feeling ambitious, you can follow the from scratch horchata recipe or the quick recipe version if you're short on time. We think you will love the creamy texture of this Iced Coffee Horchata recipe! Enjoy!
STRONG ICED COFFEE RECIPE
1/2 cup of course ground coffee beans
2 cups water
Add coffee and water to a french press. Stir and then refrigerate overnight.
HORCHATA RECIPE (from scratch - scroll down for a quick recipe)
INGREDIENTS
1 cup uncooked, long-grain rice
3/4 cup almonds, blanched and lightly toasted
2 two-inch long sticks of cinnamon
1 tsp vanilla extract
3½ cups water
Up to ½ can sweetened condensed milk, to taste*
PREPARATION
Add the rice, almonds, cinnamon, vanilla and 1 cup water to a large container and cover. Soak at room temperature overnight.
Pour the rice and soaking liquid into a blender, and pulse the blender on and off about 10 times or until all the rice is finely ground, 2 to 3 minutes. Strain mixture through a fine-mesh sieve, pushing out as much of the liquid as you can. Discard the "pulp" and transfer the liquid back to the blender. Add the condensed milk to taste and blend until combined.
To serve, divide horchata among ice-filled glasses and top with iced coffee, to taste (about 2 to 3 tablespoons iced coffee for each cup of horchata).
QUICK HORCHATA RECIPE
1/4 cup almond milk
1/4 cup rice milk
4 tablespoons of sweetened condensed milk OR 4 tablespoons simple syrup (or to taste)
1/4 teaspoon freshly ground cinnamon
1/4 teaspoon freshly ground nutmeg
1/2 teaspoon vanilla extract
8 oz iced coffee
PREPARATION
Add almond milk and rice milk into a blender. Turn on the blender, and blend at a medium-high speed for about one minute.
Stop the blender and add the cinnamon, nutmeg and iced coffee. Turn the blender back on and blend on high for about 20 seconds.
With the blender stopped, add the condensed milk to taste. Pulse a few times to combine.
Pour into two glasses over ice and garnish with freshly grated cinnamon.