---
Summer Entertaining with Tea
Layla Osberg - June 26, 2019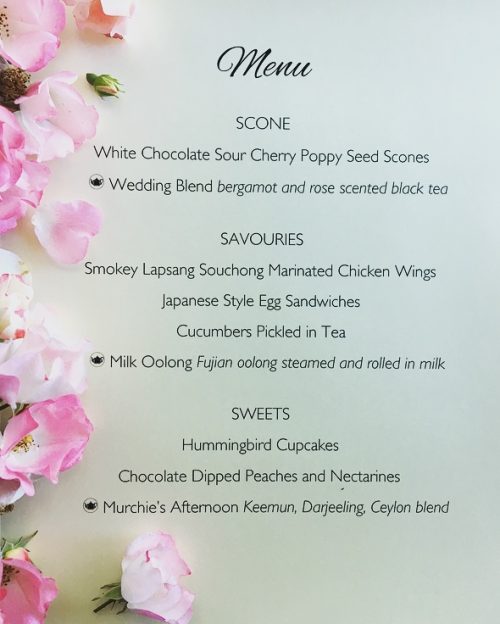 When summer rolls around, so do opportunities to entertain! So when the Tea and Herbal Association of Canada announced that July was going to be Entertaining with Tea Month, the first thing that came to mind was organizing an afternoon tea for a summer bridal party. Summer weddings definitely inspire celebration - flowers blooming everywhere we look and an abundance of seasonal ingredients, making planning a breeze. I love this time of year when the first cherries appear in the store - they will make their way into the Murchie's Scone Mix. Some wild roses will become flower arrangements for the table that will match perfectly with Wedding Blend bergamot and rose tea.
SCONE
Tea pairing: Wedding Blend
White Chocolate Sour Cherry Scones
RECIPE
Follow package instructions for Murchie's Traditional Scone Mix. Add 3 tablespoons of poppy seeds, 1/2 cup of pitted and halved fresh cherries and 1/2 cup of white chocolate chunks. Serve with Murchie's Lemon Curd and clotted cream.
SAVOURIES
Tea pairing: Milk Oolong
Smokey Lapsang Souchong Chicken Wings
INGREDIENTS
1/2 cup of room temperature Murchie's Lapsang Souchong
1/4 cup soy sauce
2 tablespoons rice vinegar
1/4 cup honey
1 tablespoon grated ginger
2 cloves garlic, minced on a microplane (about 4 teaspoons)
24 chicken wing pieces
RECIPE
Steep Lasang Souchong (1 tablespoon of loose tea or 2 tea bags) in 1/2 cup of boiled water and steep and strain after 5 minutes. Let the tea come to room temperature and combine with soy sauce, vinegar, honey, ginger and garlic in a large bowl. Add chicken wings and cover. Allow to marinate in the refrigerator for at least 30 minutes or overnight. Preheat oven to 400 degrees. Remove chicken from marinade and shake off any excess bits of marinade. Place chicken wings on a foil or parchment lined baking sheet and bake for 30 minutes or until crispy.
Cucumbers Pickled in Tea
INGREDIENTS
1 long English cucumber
1 teaspoon of salt
1/4 cup of Milk Oolong tea
3 tablespoons of vinegar
5 tablespoons of sugar
RECIPE
Cut cucumber into thin slices and sprinkle with salt. Stir well and let sit for 10 minutes to absorb the salt and then rinse and drain. Combine room temperature tea, sugar and vinegar in a deep bowl and add cucumber. Refrigerate for at least an hour before serving.
Japanese Style Egg Sandwiches (serves 4)
INGREDIENTS
6 large eggs
8 slices of soft white bread
salted butter (room temperature)
1/2 teaspoon sugar
1/2 teaspoon salt
freshly ground black pepper
3 teaspoons of milk
3 tablespoons of Japanese mayo (the kind in the kewpie bottle)
RECIPE
Put the eggs in a pot and fill with water to cover. Bring the water to a boil on medium heat and boil for 12 minutes. When the timer goes off, transfer the eggs  to a bowl of ice water and let the eggs cool completely before peeling. Cut the hard boiled eggs into halves or quarters and place in a food processor or blender. Add the mayo, salt, sugar, pepper and milk to the processor and pulse and check, pulse and check until you reach a smooth unified consistency. To assemble the sandwiches, spread butter on top and bottom slices of bread. Evenly distribute the egg mixture on one slice of the bread. Be careful not to go to close to the edge as the mixture might squeeze out when you slice the sandwich. Put the top slice on and either gently and evenly press down OR put a plate on top of the sandwich while you assemble the others. Do this to all the sandwiches for at least 5 minutes each. Using a very sharp knife, cut all sides off the sandwiches and slice sandwiches in half. Halve again for smaller sandwiches.
SWEETS
Tea pairing: Murchie's Afternoon
Hummingbird Cupcakes
INGREDIENTS
1 cup butter, softened
2 cups sugar
3 large eggs, room temperature
2 teaspoons vanilla extract
2 cups mashed ripe bananas
1/2 cup drained canned crushed pineapple
3 cups all-purpose flour
1 teaspoon baking soda
1 teaspoon ground cinnamon
1/2 teaspoon salt
1 cup sweetened shredded coconut
1 cup chopped walnuts
Cream Cheese Icing
1 package (8 ounces) cream cheese, softened
1/2 cup butter, softened
3-3/4 cups confectioners' sugar
1 teaspoon vanilla extract
RECIPE
In a large bowl, cream butter and sugar until light and fluffy. Add eggs, one at a time, beating well after each addition. Beat in vanilla. In a small bowl, combine bananas and pineapple. Combine the flour, baking soda, cinnamon and salt; add to the creamed mixture alternately with banana mixture, beating well after each addition. Fold in coconut and walnuts. Fill 24 paper-lined muffin cups about two-thirds full. Bake at 350° for 20-25 minutes or until a toothpick inserted in the center comes out clean. Cool for 10 minutes before removing from pans to wire racks to cool completely. In a small bowl, beat cream cheese and butter until fluffy. Add confectioners' sugar and vanilla; beat until smooth. Frost cupcakes.
Chocolate Dipped Peaches and Nectarines 
INGREDIENTS
4 each peaches and nectarines
150 grams dark chocolate
1 tsp coconut oil
RECIPE
Mix the chocolate and oil together over a bain marie OR melt in the microwave in 30 seconds intervals, until smooth. Slice the peaches and nectarines into wedges. Dip each wedge in chocolate and place on parchment lined pan. Cool in the fridge for 10 min before serving.