Murchie's Afternoon Loose Tea
---
The perfect afternoon tea, light and smooth with little to no astringency. This brew can be enjoyed with a splash of milk, or simply on its own. A favourite of many traditional black tea drinkers.
A signature blend for Murchie's, this tea has been served in distinguished homes and hotels all over British Columbia, and is revered worldwide.
| | |
| --- | --- |
| Caffeine | Caffeinated |
| Cup Strength | Medium-Strong |
| Origin | Blend |
| Tea Format | Loose Tea |
| Type | Black |
A truly phenomenal tea! Review by ['Guy H.']
I was introduced to this delicious aromatic tea many, many years ago at the lovely Empress Hotel while visiting with my family. Back in the day, the hotel had a much more strident dress code for men and women, my siblings and I felt that we had finally 'arrived' at sophistication after having enjoyed our first official Afternoon Tea at the Empress. The Empress Afternoon Blend as it was then known, now Murchie's Afternoon Blend, has become my all-time favorite for both myself, my household, and as gifts. I naturally enjoy drinking it hot at home or work (although I must confess while at work it tends to cool off before I can finish the pot, and I know this is sacrilegious, but I have re-heated it, and guess what? It actually still tastes good!) It's also delightful iced, hot with milk, and/or lemon and wee bit of sugar/honey. The perfect TEA!
Posted on 2022-08-30
another great blend Review by ['tally']
We already have so many favorites from Murchie's (Diamond Jubilee, No 10, CBC Radio Blend, Editor's Blend), that I rarely introduce another tea into our repertoire. But we tried Murchie's Afternoon for the first time and now there's another one we love. I think the medium-strong designation is fair -- it's not very strong nor light. It's got the same flavorful-yet-neutral profile that I like from all my favorite Murchie blends. Truly drinkable any time of day, by itself, with food, or with sweets.
Posted on 2022-02-10
A Reintroduction to a Very Great Tea Review by ['davej']
I had forgotten how good this tea is, as I hadn't had it for awhile. My wife and I first had it about 40 years ago at the Empress Hotel in Victoria. It was there we learned to drink tea in bone china cups with just a small bit of milk. It is very smooth and tasty. A very relaxing cup. Brewed for 4:45 minutes at 208 degrees, served with a shy teaspoon of milk in a Murchie's bone china cup. Fantastic!
Posted on 2021-10-30
Light, delicious and a favourite now Review by ['Grace']
Discovered this during the week because it was the only tea available at a friend's home - unbelievably smooth, delicious and really a perfect tea for later in the day!
Posted on 2021-03-04
Distinctive blend Review by MIchelle Butler Hallett
1.25 tsp for 250mL water 100C, steeped 4 minutes 15 seconds. Dry leaf: mostly small brown to black wiry leaves. Aroma: Keemun toastiness. Wet leaf: dark browns, aroma of tannins and minerals. Liquor: gorgeous dark red-brown. Keemun gives way to Darjeeling's bite, which leads into a strong Ceylon finish with mineral and especially copper notes. It feels like the different teas in this blend travel over the tongue, in an orderly queue. Slightly bitter — often a risk with Keemun. Very nice blend, and strong enough to cut through and then complement other strong tastes. I imagine this would go beautifully with smoked salmon, or a sweet cake.
Posted on 2019-01-13
A gift that became a ritual Review by Holly
Years ago my brother and his wife vacationed in Victoria and brought me back a box of Afternoon Blend. I admit that I was not impressed with the gift, as I was a coffee drinker and was never exposed to any tea more sophisticated than Lipton. I fell in love with this tea and have been ordering it from California ever since. It has a lovely, full taste, pairs well with milk and honey, and is just Delicious!! Sometimes I add mint and peanuts - yum.
Posted on 2018-07-03
Bye Gone Days Review by cmp1226
This was my very 1st blend of tea at age 13 at The Empress Hotel. The by gone days of dress codes and formality. I have enjoyed this tea ever since. I was fortunate to purchase the original tin that says Empress Afternoon tea. I enjoy this heavenly light flavor in the afternoons.
Posted on 2018-04-09
For Boston Tea Parties...and every day Review by Jenn
I had my first cup of what was then "Empress Afternoon" on a weekend trip to the Empress Hotel in Victoria from Seattle nearly 30 years ago. It's been my "house blend" ever since. I've served it and gifted it here in the Lower 48, and folks always enjoy it. No dumping *this* tea in the harbor!
Posted on 2017-02-28
Murchie's Afternoon Blend is GREAT! Review by Steve F
My first stay at the Empress in 1970 was a real eye opener as far as tea goes... I believe the blend was called "Empress Blend" at the time, it was the first time I tasted REAL tea (steeped correctly) and of course the blend itself. When I travel I always try to bring along my "supply" of Murchie's Afternoon Blend Tea!
Posted on 2015-06-04
A great cuppa Review by Emma
My mom and I have been hooked on Murchie's Afternoon ever since she tried it at the Empress Hotel many moons ago. We order it from Montreal and it is worth every penny. It is smooth and flavourful and never bitter. Just delicious. Perfect black or with milk.
Posted on 2015-03-24
Can't live without it! Review by Jillian
My husband & I have enjoyed this tea even before its name change. Murchie's Afternoon was called Empress Afternoon after the hotel in Victoria. That is were we first discovered it. Now many years later still the only tea my husband wants. We enjoy it for breakfast, afternoons and in the evenings. We drink it black. Have given it for gifts many times.
Posted on 2015-01-21
Afternoon Delight! Review by Pamela
While visiting Victoria last week, I happened upon Murchie's and was delighted by a cup of Murchie's blend every afternoon. Every sip was smooth and satisfying. I was anxious to savor a new cup each day! I am so glad that it is available on-line to keep the wonderful experience on-going. Now if I could only order some of their marvelous desserts to go with it!
Posted on 2014-08-21
I may stray...but I always come back. Review by Cheryl
I first tried Murchie's Afternoon on my honeymoon over 10 years ago. Wow! I have been ordering it online and drinking it regularly. I often try other blends, but I always come back to Murchie's Afternoon. This blend is truly the quintessential Tea for which I judge all other Tea's against.
Posted on 2014-08-04
my favorite tea any time of day Review by John
With an English mother, I grew up drinking tea in the coffee belt of the US Midwest. Stumbled across a Murchie's on a trip to Victoria BC, and tried this delightful tea on the recommendation of the counter staff. Regularly experiment, but always return to this wonderful blend, which reaches perfection with honey and cream.
Posted on 2013-08-21
The best gift Review by Mary
This tea was a gift from my son and daughter-in-law when I visited BC in the Spring. I'm hooked. I don't live anywhere near a Murchie's so I am ordering this tea on line. It is so smooth and delicious, I just can't drink anything else.
Posted on 2013-07-12
The only Tea Review by Judy
I love Murchies Afternoon Blend. Have been drinking it for years...It never disappoints me. It is my quiet spot of the day. Thanks.
Posted on 2012-09-18
My favorite tea for over a quarter of a century Review by Glenna
I have been drinking Murchie's Afternoon Blend since October, 1986, when I visited Victoria. I have taken tea in many places, but the Afternoon blend is still my favorite, for any time of day.
Posted on 2012-06-25
BEST Tea Review by Diane
I've been drinking tea since I was 5 years old (I'm past the half century mark now). Occasionally I will buy many different types of tea and have a blind taste comparison. This one is always the winner. So smooth and delicious. Perfect with a bit of honey or brewed with some fresh mint.
Posted on 2012-05-25
Great Tea - Murchie's Afternoon Blend Review by Mary
Ever since we went to the Empress Hotel for "Tea" where we got our first taste, we have been ordering the Afternoon Blend from Murchie's - that would be over twenty years ago. We find it the smoothest, great tasting tea, especially for breakfast. That pretty much says it all ;).
Posted on 2012-04-21
---
Write your Own Review
You're reviewing: Murchie's Afternoon Loose Tea
Flavour Profile Guide
Tea and coffee tasting is a very individual, multi-dimensional experience: one person's perfect cup can be too strong or weak, too brisk or watery for the next person. At Murchie's, we believe that the best tea or coffee is the one that YOU like the best! We use the following flavour profile guides to help compare our teas and coffees within a relative scale.
---
Tea Strength Ratings
This rating method indicates the strength of flavour each tea has when brewed according to our brewing guide.
| | | |
| --- | --- | --- |
| RATING | | RATING PROFILE |
| | | Light/Delicate: Very light in colour and delicate in flavour |
| | | Medium: Medium-light cup with slightly fuller cup |
| | | Medium-Strong: Medium-dark cup, medium body, and full flavour without harshness |
| | | Strong: Full body, rich cup, takes milk well |
| | | Very Strong: Rich, dark cup with very full, strong flavour and briskness |
---
Coffee Ratings
We rate the flavour properties of our coffees along two dimensions: roast and body.
Roast is simply a result of how long and how hot the beans have been roasted, which can be seen in the colour of the finished bean, and typically results in general flavour traits:
| | | |
| --- | --- | --- |
| Light Roast | | More acidity, brightness and a slight pucker |
| Medium Roast | | Slightly richer flavours, some acidity, enhanced creaminess |
| Dark Roast | | Distinctive roasted flavour, sometimes notes of toasted sugar or charcoal |
Body is the term used to describe how the brewed coffee feels in your mouth:
| | | |
| --- | --- | --- |
| Light Body | | Easy to drink with little lingering flavour, 'thin' or 'clean' feeling on the palate |
| Medium Body | | Heavier, creamier mouth-feel with more lingering flavour |
| Full Body | | Rich, full-mouth feeling: hits all of the palate and lingers |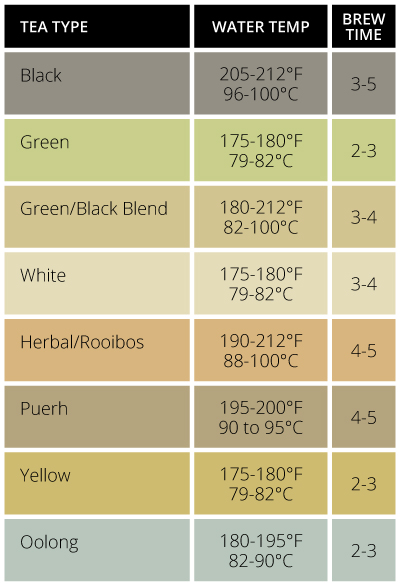 Tea Brewing Guide
Different types of teas should be brewed according to certain times and water temperatures to bring out their best flavours. Use this guide as a starting point, and then experiment until you find the perfect brewing method for your favourite tea.
Based on approximately one level teaspoon (2.5g) of loose tea or one tea bag per 6-8 ounce (180-240ml) cup. For stronger flavour, add more tea. Brewing for longer may increase the strength of the tea, but will likely also cause bitterness.
Brew times shown in minutes.
---
Coffee Brewing Guide
The simplest methods for brewing coffee are drip coffee, pour over and French press. These guidelines are a starting point; modify the ratio of coffee to water, the grind, and brewing time to your taste. If your coffee is not strong enough, increase the proportion of coffee per cup of water, grind the beans finer, or allow them to brew longer – or any combination of these factors. If your coffee is too strong, simply do the opposite.
Drip coffee or pour over method: hot water is gradually poured over coffee grounds and slowly drips through
Fine to medium grind coffee
1.5 to 2.5 tablespoons of coffee per cup of water
French press:
coffee grounds are 'steeped' in hot water, and then a filter presses down the grounds, allowing the finished coffee to be poured off
Coarse grind coffee
1 to 1.5 tablespoons of coffee per cup (e.g. 4-6 tbsp for a 4-cup French press)
Pour about 1/3 of the water over the coffee grinds; wait about 30 seconds and then pour in the rest
Wait 4-5 minutes, then push down the plunger to separate the grounds from finished coffee, and enjoy!
---