---
Tiki-inspired Cocktail Recipe with White Tea
Layla Osberg - Feb. 20, 2020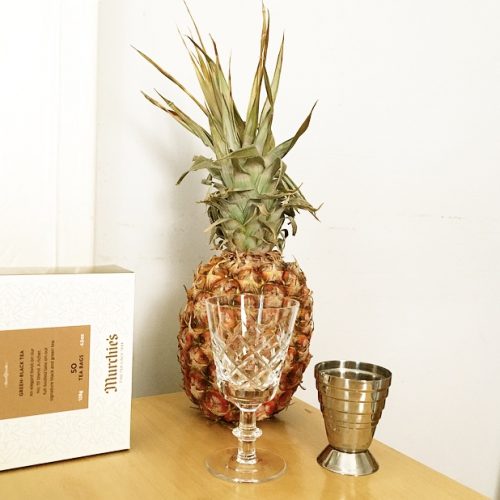 Of all the different types of cocktails that we enjoy making with tea, tiki-inspired drinks are the most fun. Black tea with rum and pineapple. Green tea with whiskey and lime. Oolong with spiced rum and orange . And now Murchie's has a whole new White tea category! It seems the flavour options and combinations are endless!
INGREDIENTS
1 tablespoon White Chocolate tea
1 oz dark rum
2 oz pineapple juice
1 oz banana brown sugar syrup (see recipe below)
Maraschino cherry for garnish.
DIRECTIONS
Steep White Chocolate tea in a tea pot for 4 minutes 1 cup of boiled hot water water. Strain over 1 cup of ice cubes. You will be left with room temp/cool tea. Pour cool tea, rum, pineapple juice and banana brown sugar into a shaker filled with ice and shake. Pour into favourite glass and garnish with a maraschino cherry.
BANANA BROWN SUGAR SYRUP RECIPE
In a medium saucepan, combine 1 cup of water, 2 sliced up ripe bananas, and 2 cups of brown sugar. Bring to a light simmer, and gently stir to dissolve the brown sugar, and slightly mashing the bananas. Let simmer for 5 to 10 minutes, then remove from the heat to let it cool. Strain out the solids and store the syrup in a glass jar in the refrigerator for up to one week.