---
Gift Ideas for Your Valentine
Layla Osberg - Jan. 22, 2020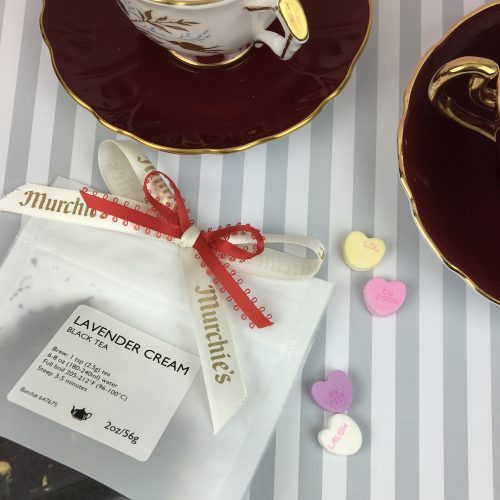 Looking for what to gift your loved one this Valentine's? We like the idea of making a homemade card and pairing it with a Murchie's treat for those dearest to you, friends and relatives. This year, we've put together an extra-special gift guide filled with sweet treats and some splurge-worthy indulgent teas picked just for them.
New! Creamy Bundles
Discover two creamy flavour pairings presented in a highly giftable tasting size, just enough to try for the first time or to give as a gift.
New! Cinnamon Hearts
A sweet and rich cinnamon-infused black tea treat. Tastes just like classic candy!
New! Lavender Cream
This beautiful blend makes the perfect afternoon tea when you are craving a treat – it would go wonderfully with shortbread or scones!
New! White Chocolate
This is an elegant and subtle tea for those who enjoy the healthful benefits of white tea made special to feel like an indulgence.
Earl's Gold
Complex, full-bodied and faintly smoky, with a malty base. A bolder cup with a subtler bergamot note than a traditional Earl Grey. A must-try for any fan of Earl Grey.
Golden Peony
Surprisingly light and floral, with notes of apricot. This black tea has a lot of complexity. The taste is reminiscent of its oolong heritage.
Honeysuckle Black
Thick and honeyed, with muscatel, fruity overtones. The golden down is so abundant it floats in the cup.
Wellness Collection
For peaceful moments of relaxation.
Anniversary Collection
A true celebration of 125 years of tea featuring twelve of our favourite tea blends. It's the perfect gift idea for any occasion!
Biscotti
Sweet gifts can say "I love you in" so many ways. We've got your Valentine's baking covered.
Coffee Pairs
A great gift idea that will delight any coffee aficionado!
Flavoured Coffee
An easy gift idea that is sure to please any coffee aficionado with a sweet tooth!
Cozy Caramel Rooibos
Spend a cozy night in with this satisfying herbal tea
Darjeeling Estate and Darjeeling Pure
The champagne of teas!
Ice wine Tea
Celebrate Valentine's Day with a real adult treat tea.
Paris Afternoon
This tea is reminiscent of the most romantic place on earth.
Rose Congou
Give the gift of this special tea - Better than flowers!
Spa Blend
Pamper your love with this luxurious herbal tonic. Maybe tuck in a gift certificate for a spa day, too.
Strawberry Shortcake
A bottle of champagne and strawberry shortcake tea and you're set!
Wedding Blend
The perfect gift for the newly engaged.
Vanilla Tea
A special black tea to for your Valentine.
Mini Tin Pairs
Planning a 'Gal'entine's with your bestie? These mini tin pairs are a perfect gift for two