---
Tea Trolley Must Haves For Summer!
Michelle Nguyen - June 7, 2022
Author: Layla Osberg
We are extremely pleased to share with you that the tea trolley is back in vogue and just in time for seasonal entertaining! This is not simply our opinion, in a recent weekend edition of the Financial Times, author Alice Lascelles proves it to be true with some very convincing examples from online resale sites of what people are willing to spend on a vintage tea cart or trolley, and also some beautiful new designer ones, and we'll just say that the amount is A LOT.

If you're lucky enough to have one that's perhaps been passed down to you, great! Dust it off and place it front and centre when guests are over. You may not want to bring this one outside, though, so consider looking for a newer model at your local big box store that you'd feel comfortable using inside or outside. Now all you need are the right ingredients and some great recipes and you're all set for happy hour (or afternoon tea).
In this guide find a fresh new iced tea recipe and a list of essential teas that we think you need for the perfectly stocked tea trolley. We think there should be at least one option from each category of black, green and herbal teas to keep everyone happy.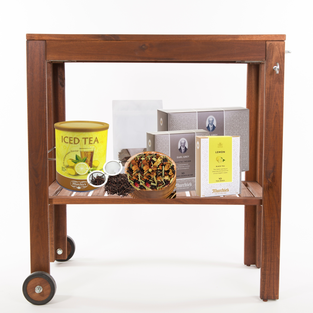 This list could change with the seasons, but here we have teas that make for a great iced tea, and some flavourful caffeine-free options as well. Depending on how much space you have at your cart you may only be able to keep a select few from this list, as well as an assortment of glasses and cups, sugar, ice, swizzle sticks and napkins.


No. 10 Blend - Just add ice and maybe a twist and you'll be set! A bit different in character but suitable for all. 
1894 Select Orange Pekoe

 

- Our all time favourite for a classic iced tea recipe. Click

 

here

 

for a recipe.
Earl Grey - No tea collection is complete without it! 
Lemon Black Tea - See below for our new Garden Party recipe that you'll want to sip all summer.
Iced Tea Tin - Sometimes it doesn't need to be fancy to be good and extremely satisfying.
Canadian Breakfast - Try this iced milk tea recipe with maple syrup for your Canada day party!
Traditional Chai - Everyone needs a little spice and it can be made iced or hot!
Pink Lemonade - Have you tried this French 75 recipe yet?
Bumbleberry Rooibos - A satisfyingly fruity herbal is a must-have.
Lychee Green - Patio sipper approved.
Peppermint - A well-stocked tea cupboard staple. It's also featured in our new Garden Party recipe below.
Blue Jasmine - Summer's coming, you'll want iced tea, and this one turns purple when fresh lemon is added! Here's a recipe.
Victorian Garden - The perfect seasonal tea.
Murchie's Garden Party Iced Tea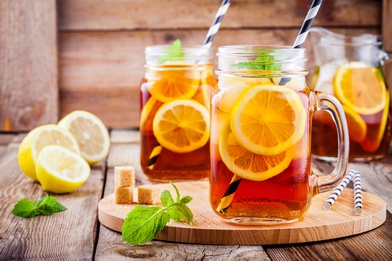 The official drink of summer garden parties since the 1800's is made super refreshing in this recipe with black and mint tea!
Ingredients 
2 tea bags Lemon Black tea
2 tea bags Peppermint 
½ cup of white sugar
2 large oranges sliced in rounds
400 ml of Pimm's No1
A few sliced strawberries and plenty of ice to serve
*leave out the Pimm's for a non-alcoholic beverage
Method
Put the tea bags into a large heatproof jug and pour over 1.2 litres of freshly boiled water from the kettle. Leave to infuse for 10 minutes and remove and discard tea bags. Stir in the sugar and add the sliced oranges and Pimm's and chill. Serve with plenty of ice, strawberries and lemon slices if you like.