---
Celebrate The Queen's Platinum Jubilee With Murchie's!
Michelle Nguyen - June 3, 2022
Author: Layla Osberg
Murchie's wishes Her Majesty the Queen a particularly special congratulations as we celebrate her Platinum Jubilee year with a new commemorative tea blend. Here at Murchie's, marking Royal occasions has become a tradition we're known for.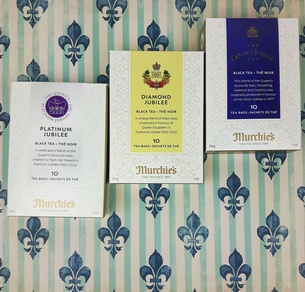 Indeed, we've been blending tea ever since a young John Murchie hand-delivered Queen Victoria's favourite teas to Balmoral castle in the 1870s. These same teas now make up our Queen Victoria blend, sold in stores to this day, and guides our hand in future tea blends. When Murchie's was asked by Queen Elizabeth II in 1970 to supply Her with China and Ceylon teas for a voyage from Vancouver to Australia onboard the H. M. Yacht Britannia, we gave Her a box of 24 different teas and received a gracious letter of thanks which we still have, framed in a place of honour.
With a sense that we are familiar with Her Majesty's taste in tea, we commemorate each of Queen Elizabeth's Jubilee celebrations with a new tea. The tradition began on Her Silver Jubilee in 1977 with the Royal Jubilee Blend, made up of three of her favourite teas. When we reintroduced it in 2002 to honour of Her Majesty's Golden Jubilee, customers loved it and we have been selling pounds of it ever since! Our Golden Jubilee Blend is just the type of tea that Murchie's pioneered and became famous for, comprised of Ceylon, Darjeeling, Keemun, Assam and Nepal teas. Originally described as having a taste of elegance and richness of flavour, it makes for a medium-bodied cup with notes of malt and pumpkin bread, and a pleasant toasty tobacco-like finish. 
2012 marked Queen Elizabeth II's Diamond Jubilee, the 60th anniversary of Her accession to the throne; such an incredible milestone in itself, we knew we wanted to take the finest quality Ceylon, Darjeeling, Assam and Yunnan teas for a very special blend.  Full-bodied, with aromas of honeyed fruit and those desirable muscatel undertones found only in the best Darjeelings (the "champagne of teas"), this is a blend with sparkle befitting the occasion.
As Queen Elizabeth celebrates the 70th anniversary of Her rule, becoming the longest-reigning British monarch, we mark the occasion with the Platinum Jubilee Blend. We looked to our past to create a modern blend in its velvety smooth and light simplicity; marrying Keemun, Assam, Darjeeling and Yunnan black, this blend has suggestive notes of dried apricot, vanilla, tobacco and candied strawberry. We hope you love our Platinum Jubilee Blend as much as we do.
| | | |
| --- | --- | --- |
| Tea | Components | Tasting Notes |
| | Ceylon, Assam, Keemun, Nepal, Darjeeling | Brisk and malty, a strong tea that takes milk well and makes for an excellent breakfast blend. The Assam is dominant, hearty notes of grains and astringent fruits, given depth by the light, floral and nutty notes of Darjeeling and Nepal teas. |
| | Ceylon, Darjeeling, Nepal, Assam, Yunnan | The perfect Afternoon counterpart to Golden Jubilee. This tea is Darjeeling-forward instead, sweet, floral, faint hints of muscatel grapes and almonds, grounded with just a bit of Assam and Ceylon for a brisk, yeasty body that still takes milk well. Just a touch sweet. |
| | Darjeeling, Assam, Keemun, Yunnan | Using Keemun as it's base instead of Ceylon, this tea is remarkably smooth and lightly smoky, mainly notes of grains and nuts, with an overtone of burnt sugar. This tea stands up to milk well and makes a nice Afternoon tea, providing an interesting contrast to the other Jubilees. |