---
Cool off with our Melon Slush(tea) recipe
Breanne Teranishi - July 11, 2022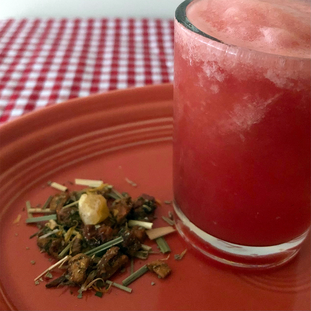 Author: Layla Osberg
Summer is the best time of year to keep things simple in the kitchen. The long hot days have us puttering around the kitchen at a slower pace than normal and recipes with minimal prep work and rewarding flavourful results are key to staying chill (emotionally and physically). It's even better if there are only a few ingredients needed, which is why we'd like to share with you this recipe for a melon slush made with our seasonal Honeydew Mint herbal tea and chunks of frozen watermelon. This refreshing flavourful recipe comes together with just 3 ingredients. Our Honeydew Mint tea is packed with fruit, herbals and botanicals so you'll get big flavour from just one ingredient! This weekend, put this recipe to the test, invite some friends over and take it easy with this summer sipper.
Melon Slush (Tea)
Ingredients:
10 cups of watermelon cubes and frozen
4 tablespoons of Honeydew Mint Tea
4 tablespoons of sugar
1.5 cups freshly boiled hot water.
*This recipe is just as delicious with less sugar if you wish your slush to be less sweet.
*Try adding a couple of ounces of vodka for a boozy version.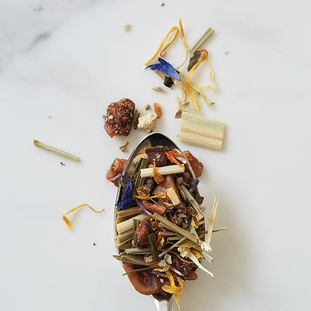 Directions:
Cube and freeze the watermelon and lay flat on a parchment lined baking sheet and place in the freezer for at least 4 hours.
While the watermelon is in the freezer, steep the 4 tablespoons of Honeydew Mint tea in 1.5 cups of freshly boiled hot water for 8 minutes. Strain and add the 4 tablespoons of sugar. Refrigerate while waiting for the melon to freeze.
If your blender can take it, add all the watermelon and cold tea mixture at once. Otherwise, work in 2 batches to blend, and transfer to a large pitcher for serving. *add water as needed if the slush is too thick.