---
Take Dessert To The Next Level With These Warm Vanilla Jasmine Poached Pears
Michelle Nguyen - Feb. 24, 2022
Author: Layla Osberg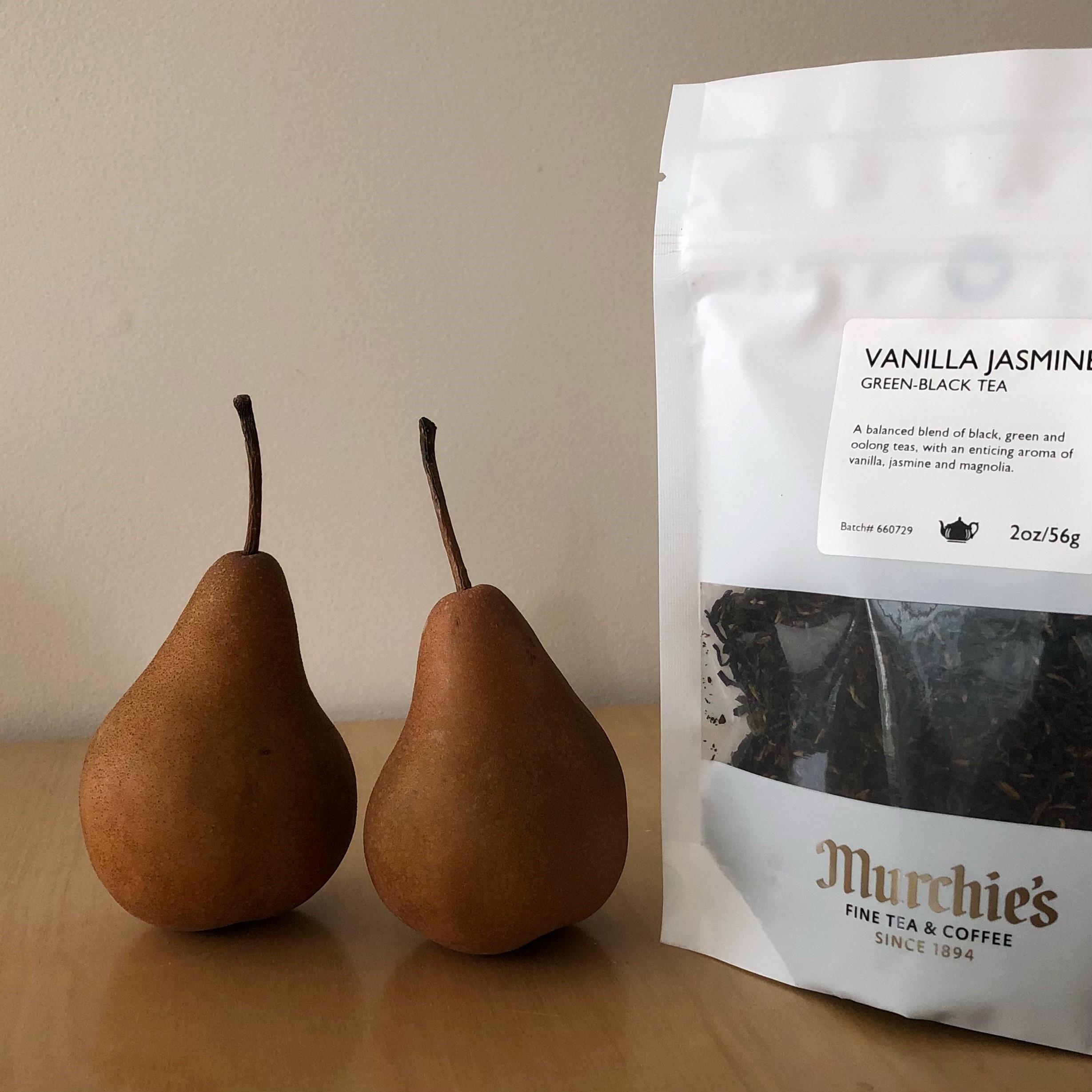 My husband jokingly calls me the green tea queen because I'm always trying to get people to drink green tea. There are so many health benefits, I tell them lovingly.
Truth is, I don't drink enough myself! I would like to add more green tea to my routine by not only sipping throughout the day but also by adding it to a recipe.
I recently brought home Murchie's seasonal Vanilla Jasmine loose leaf tea. This tea is evocative of springtime with its grassy and floral aroma and the warm sweetness of vanilla - just perfect for this transitional time of year. And just right for this poached pear recipe that I thought to do while browsing the fruit aisle at my local market for inspiration. The Jasmine adds an intriguing flavour to the pears that would go wonderfully with a dollop of yogurt or vanilla ice cream.
3 tablespoons Vanilla Jasmine green tea leaves
3 cups cold water
1/2 cup granulated sugar
1 (1 inch piece) thinly sliced ginger 
3 firm pears, peeled, halved lengthwise and cored. I left the stems on and quartered the pears lengthwise to serve, but they could be sliced thinner while cooking for more tender results.
Directions 
Step 1 Place tea in a glass measuring cup or a teapot. Bring 2 cups water to a boil, and pour over tea. Steep for 4 minutes.
Step 2 Strain tea into a medium pot. Stir in sugar, ginger and remaining 1 cup water. Gently simmer, stirring, until sugar has dissolved, about 2 minutes.
Step 3 Add pears to pot. Cook, adjusting heat so that steam rises from surface but no bubbles appear, until pears are slightly translucent and just tender, 15 to 20 minutes. Using a slotted spoon, divide pears among bowls, and let cool slightly.
Step 4 Return liquid to a gentle simmer. Cook until slightly reduced, about 5 minutes. Pour over pears. Serve warm, at room temperature, or chilled. Pears can be refrigerated in syrup for up to 2 days.