---
Spring Cleaning 101 With Leftover Tea!
Michelle Nguyen - April 8, 2022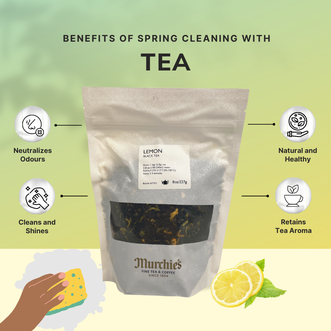 Author: Layla Osberg
The days are getting longer and the sunlight is shining through open windows. Anyone else feel like doing a little spring cleaning?
Spending more time at home has us tackling the to-do list around the house. More daylight means we're noticing all the nooks and crannies that could use some freshening. It feels good at this time of year to give our space some much needed TLC and we're going to use tea to do it!
First, we're going to make a big pot of tea, mostly to drink, but don't throw out the leftover steeped tea or the leaves. I like using a neutral green tea like Murchie's Sencha Loose Tea for cleaning the inside of my fridge because of its natural antibacterial properties. Simply set aside the extra steeped tea liquid in a bucket so that it cools before cleaning with it. For keeping hardwood floors nice and shiny use a black tea like Murchie's Lemon Black Tea as it has a fresh lemon scent. Black tea is naturally astringent making it a great alternative cleaner similar to cleaning with vinegar. Make sure to first dust the floor before mopping the floors with cooled tea.
Next, the reserved used tea leaves can be completely dried and then sprinkled all over a rug or cushion. We all know that tea absorbs odours, that's why we keep it in an airtight container and why it works for this task. Just leave them for about an hour before vacuuming the leaves away.
Using green or black tea to clean our house is a great way to welcome the changing season. We mentioned its deodorizing benefits, but it can also add a pleasant aroma to whatever you're cleaning. It's also helpful in reducing our dependence on chemical cleaning products and packaging which is good for the environment and our health. Happy cleaning!