---
Easter Themed Earl Grey Cream Hot Chocolate That'll Have You Asking For Another One!
Michelle Nguyen - April 12, 2022
Author: Layla Osberg
We already know you love our Earl Grey teas and hot chocolates from Murchie's - they've been best-sellers for generations! So when I was looking for a sweet and creamy treat I was inspired to combine the two favourites into an Easter-themed tea hot chocolate.
Tea hot chocolate is the easiest to make and could even be served at Sunday brunch! And although this is the perfect little afternoon indulgence for one, I would encourage you to buy extra and bundle it up as an Easter basket for Easter morning or as a hostess gift.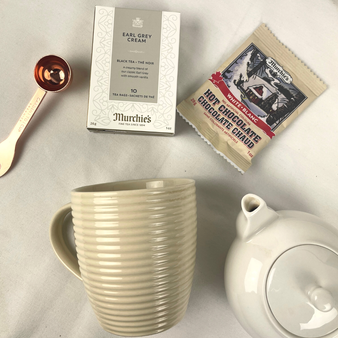 Earl Grey Cream White Hot Chocolate
All you'll need is a sampler box of Earl Grey Cream tea bags and a packet of White Hot Chocolate.
Instructions:

For one:
Pour freshly boiled water over the tea bag in your favourite cup up to about an inch from the top. Add the packet (or 1 tablespoon scoop) of White Hot Chocolate and stir. Enjoy!
For the table:
Make a big pot of Earl Grey Cream tea and scoop the White Hot Chocolate directly into the teapot and stir. Alternatively, you could place the White Hot Chocolate Tin on the table so people can stir it into their cup themselves. 
(Earl Grey Cream loose tea can be used in place of tea bags if you like)
As a gift:
If you live near a Murchie's store you could purchase a beautiful mug to put a sampler box and a packet of hot chocolate into. Otherwise, you could purchase a basket from a craft store. Add some raffia or coloured tissue paper and a seasonal flower and ribbon.