---
A Go-To Recipe For Chewy Green Tea Mochi Cake Using Murchie's Green Tea!
Michelle Nguyen - April 14, 2022
Author: Aki Tokuhara
Green tea mochi cake is definitely a staple dessert in my household. It's deliciously chewy, not too sweet and has a light, subtle green tea flavour. Plus since they're bite-sized, I don't feel too guilty eating a couple of them after dinner! This simple dessert is quick and easy to whip up to impress any crowd!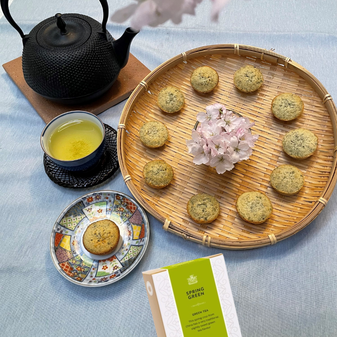 Green Tea Mochi Cake
Ingredients:
1 pound (450g) Rice Flour
7 tea bags (Genmaicha or Spring Green tea bags) or 0.5 oz Sencha green loose tea (finely grind with blender)
3 large eggs
1 tsp baking powder
1 tsp vanilla extract
1/4 cup butter 
1 cup sugar 
500ml milk
Directions
Preheat oven to 350°F
In a bowl, whisk together eggs, vanilla, and milk.
In another bowl, add rice flour, baking powder, and sugar. Open up the tea bags and pour the dry tea leaves into the bowl and mix well
Add milk + eggs + vanilla mixture into the dry ingredients
Add melted butter 
Brush a muffin pan generously with melted butter.
Pour the mixture into the muffin pan
Bake 20-25 mins until it becomes golden brown on top
Enjoy!
Note: they even taste amazing warmed up!