---
Easter Brunch Recipe Idea: Marbled Tea Eggs!
Layla Osberg - April 11, 2019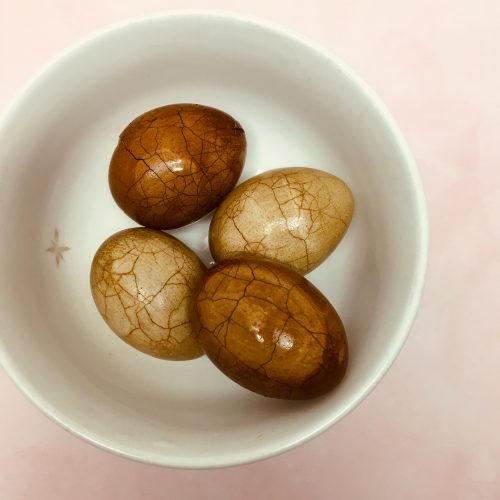 This Easter, try a charming new recipe for boiled eggs. Marbled tea eggs taste wonderful on top of rice with some sauteed spring greens or as a snack.
This recipe is a popular homemade snack in Chinese cuisine, and lends itself perfectly for bringing on a picnic or serving at Easter brunch. This version steeps hard boiled eggs in a liquid of tea, soy sauce and spices, giving the eggs an interesting appearance and a lovely, savoury flavour.
INGREDIENTS
8 large eggs
4 tablespoons of Ceylon Uva Highland or Magnolia Oolong
1 teaspoon Chinese five-spice powder
1/2 tablespoon rock sugar (or granulated sugar)
2 teaspoons salt
4 teaspoons soy sauce
INSTRUCTIONS
Put eggs in a pot of cold water to cover them.
Bring water to a boil then reduce the heat.
Simmer for 6 minutes.
Drain the eggs.
Cool them down under running water.
When they are cool enough to touch, gently crack the egg shells all around using the back of a spoon or tapping against the counter top.
Put eggs back into a clean pot.
Add all the other ingredients and water enough to cover the eggs.
Bring water to a boil then turn down the heat and simmer for 10 minutes.
Transfer everything into a glass or ceramic container.
Leave to steep for at least 12 hours.
You may keep in the fridge for up to 4 days.
For warm eggs, heat up the egg in the liquid.