---
Starting the day with Murchie's Breakfast Tea
Layla Osberg - Aug. 29, 2018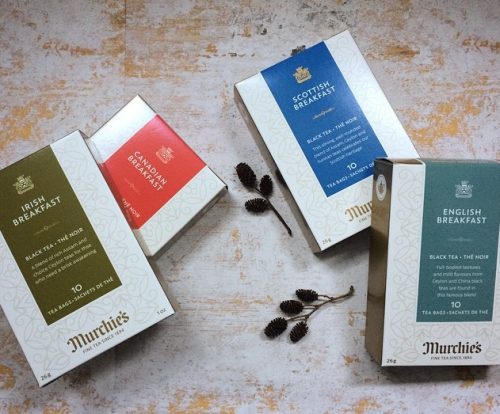 Fall is fast approaching... It's dark in the morning now and the first signs of frost are making the grass on the lawn crunchy as you step outside - maybe taking the children to school or heading out for a morning walk to the grocery store. With a mug of breakfast tea in hand you will be prepared to face the extra chill in the air, the excited chatter and endless questions of little ones - plus, it does seem to be more difficult to get out of bed in the morning when the weather changes, let alone trying to get other household members out of bed for school.
This Fall, get a head-start on the morning hustle and bustle and stock your tea cupboard with Murchie's breakfast tea. Our breakfast teas are designed to help you open your eyes and get into action! Specially blended with teas that are brisk enough to stand up to the addition of milk and sugar, if you so choose - and just right for colder climates.
Find the perfect cuppa to start your day! Shop the Murchie's breakfast blends available in loose leaf or tea bags.
Smooth and complex Keemun tea is perfectly paired with bright, lively Ceylon to create a classic, well-balanced tea. This tea has just the right amount of acidity to cut through a nice boiled egg and toast or avocado toast for breakfast.
A hearty blend of bright, high-grade Ceylon teas, enhanced by the deep flavours of golden tipped Assam. May be enjoyed as a straight black tea, but for first thing in the morning, milk is nice. You may be motivated to bake a loaf of Irish Soda bread, but store bought should be just fine for some hot toast with butter and jam with your tea.
Blended to be full bodied, brisk, malty and oaky, with just a hint of natural smokiness. Great with milk and sugar – or drink it 'neat' for a rich, robust cup. With this strong, well-rounded black blend with Assam, Ceylon and Yunnan teas, Murchie's celebrates our Scottish heritage. (Grandpa John Murchie emigrated to Canada from Scotland, where he delivered teas in the Scottish Highlands.) Now, who's going to put a pot of porridge on?
A fun take on the classic breakfast tea for those with just a little sweet tooth in the morning. This is a  brisk, full-bodied blend of black teas with a touch of maple to draw out the natural caramel and malty notes in the Ceylon and Keemun teas.
Just knowing this collection of teas is in your cupboard will brighten your morning! This collection an assortment of 72 tea bags including: English Breakfast, Canadian Breakfast, Scottish Breakfast, Irish Breakfast, CBC Radio Blend and Library Blend.
Breakfast Selection Three hearty tea blends to fortify you ahead of whatever the day may bring. The Breakfast Selection includes: English Breakfast, Irish Breakfast and Scottish Breakfast. Test them out and find your favourite!