---
Matcha Pancakes!
Layla Osberg - Aug. 22, 2018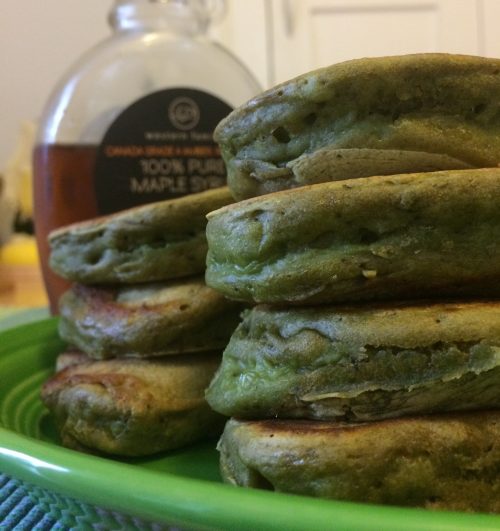 Bright green Japanese matcha, buttery, fluffy pancakes? Whatever entices you to try this recipe, we can assure you the outcome is rewarding - even if the fusion of ingredients seems outlandish for those that don't like to experiment when it comes to breakfast. In this non-traditional recipe, the cook may meditate on the simplicity and perfect marriage of the beautiful ingredients. Keeping in mind that all tea comes from the same plant, the Camellia Sinensis. And, of course, maple syrup is the perfect compliment to the subtle matcha flavour.
We love the idea of a traditional and precious Japanese ingredient alongside a quintessential, perhaps a little bit stodgy western breakfast food - and the colour truly delighful! Please do not think that this recipe is snooty, high cuisine because matcha is new to your kitchen. These pancakes taste wonderful, are fluffy and rise nicely. The flavour is more interesting than the usual flapjack because of the addition of yogurt and baking soda. A truly rewarding outcome from such a simple recipe!
MATCHA PANCAKES RECIPE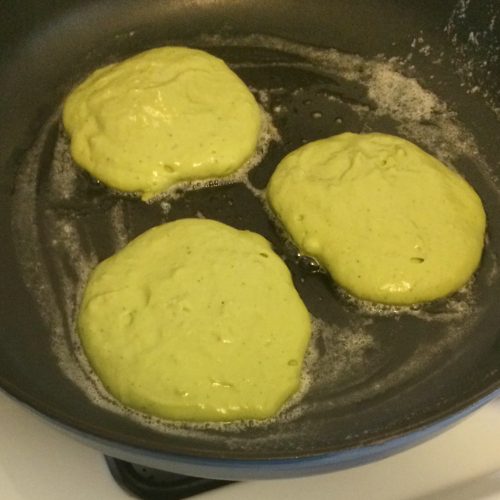 (Serves 2 people with leftovers or 4 people)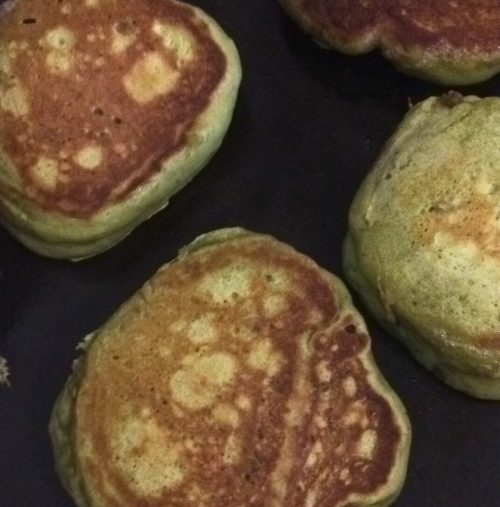 DRY
INGREDIENTS: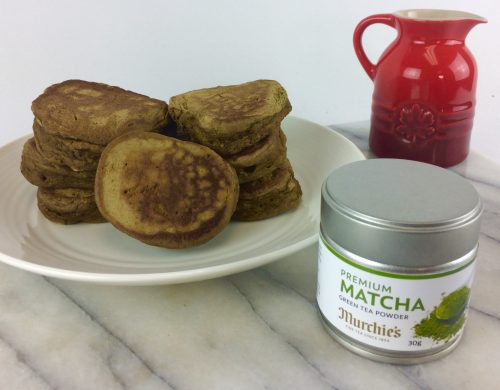 1 cup flour
1 teaspoon baking soda
1 teaspoon baking powder
1 tablespoon of matcha powder (purchase matcha here)
1 teaspoon of sugar
1/2 teaspoon salt
WET INGREDIENTS
Half cup yogurt
Half cup milk
1 egg
1 tablespoon of melted butter
PREPARATION
In a large bowl sift together all the dry ingredients (Note: the dry mixture will look very light green, but resist the urge to add more matcha powder, as it will turn darker green when the wet ingredients are added).
In a second bowl stir together all of the wet ingredients.
Add the wet mixture to the dry ingredients and stir together with a wooden spoon until just combined.
Heat up a cast iron pan or griddle to medium heat and dollop about 2 tablespoons of the mixture onto the hot surface.
Fill your pan with as many dollops as you can, leaving room for them to spread a bit without running into each other.
Flip each pancake after about 2 minutes and cook for about 2 minutes on the other side.
They should be golden brown on each side.
Serve hot, with real maple syrup, and pair with a bowl of whisked matcha or your favourite breakfast tea!
Note: For larger pancakes dollop 3 or 4 tablespoons onto the pan.