---
Refreshing Lemon Teas
Winnie Tsang - July 13, 2017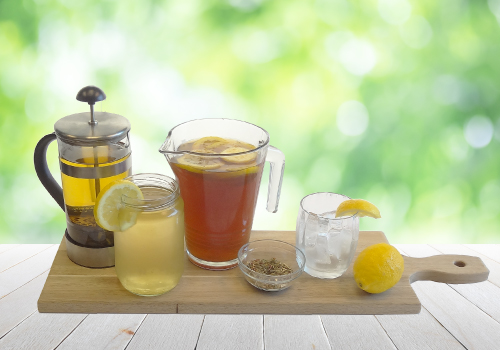 When life gives you lemons, slice them up and make iced tea!
Bright, zesty lemons are a classic summer flavour – and lemony iced tea is the perfect refreshment on a hot day! Here are some easy tips on how to make a tasty pitcher of lemon-kissed iced tea!
No lemons? No problem! Whip up a pitcher of one of our featured black, oolong or herbal lemon teas: Lemon Spice, Lemon Sorbet Oolong, Lemon Ginger Herbal, Lemon Drop, or Pink Lemonade.
To make perfect iced tea with the 'hot brew and chill' method, brew your favourite tea at double strength, sweeten to taste and pour it over ice. Add slices of fresh lemons to garnish, or a dash of lemon juice for an extra citrus boost. Or for convenient enjoyment, simply add a tablespoon of our delicious Iced Tea Mix to 8oz of water.
Tip: You may also enjoy the mix by cutting the suggested 1 tablespoon for 8oz of cold water to 1 teaspoon per 8oz and then add a squeeze of fresh lemon juice!
Happy summer sipping!
Learn about different infusion techniques in our All About Iced Tea blog post