---
Peach Passion White Sangria
Layla Osberg - May 13, 2019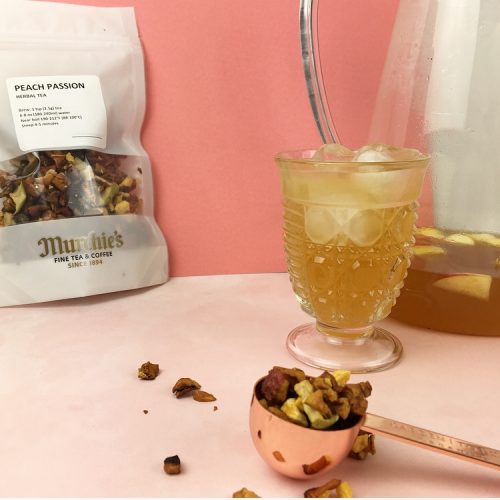 Serve this white Sangria at every dinner party or backyard bbq all summer long. Variations of this fruity wine punch can be found throughout Spain, typically made with red wine. There's always wine and fruit, but adding Peach Passion tropical herbal tea is our new personal preference. The fruit is often oranges and apples, but in this version peach or pineapple chunks mimic and enhance the tropical tea and naturally occurring notes in the white wine. Soak the fruit in the tea and sugar so they get nice and sweet and top up with wine. Serve with plenty of ice cubes. This summer sipper is great with grilled meats or a late brunch - it's pretty much brunch, lunch or dinner approved.
RECIPE:
1 cup of brewed Peach Passion herbal tea
3 cups of a nice fruity white wine (or enough to fill your pitcher)
4 tablespoons of sugar
2 pealed peaches cut into chunks (fresh or tinned) OR apple chunks 1/2 cup pineapple chunks (fresh or tinned) OR orange chunks
TEA CONCENTRATE BREWING INSTRUCTIONS:
4 tablespoons of loose leaf Peach Passion
4 tablespoons of sugar
1 1/2 cups of boiling water
Stir and steep for 8 minutes
METHOD:
Steep the tea in boiling water using a heat-proof jug for 8 minutes for a strong tea concentrate. Strain into a different container. Transfer back to the pitcher. Add the sugar and stir. Stir in the fruit. The tea will still be warm allowing the fruit to absorb and also infuse the tea. Add the white wine to fill the pitcher. Serve with ice cubes. Enjoy!
Use your favourite clear soda and omit the sugar from the recipe for an alcohol-free version.