---
Most Loved Murchie's for Fall: Your Seasonal Top 10
Breanne Teranishi - Sept. 19, 2022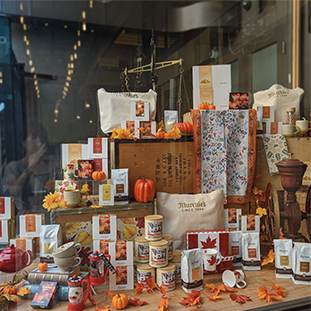 Author: Layla Osberg
The Most Loved Murchie's list is in—we're taking a look back at your favourite Murchie's products based on what you bought, liked and chatted with us about last fall. September is the start of fall and a time of change so it's not surprising that you were looking for plenty of staples like go-to tasty teas, comforting coffee and tea towelsto cozy up your kitchen. So put the kettle on and curl up in your favourite chair (the leaves can be raked later),
1. Cozy Fall Flavours
There are lots of things to love about this season, the leaves changing colour, the cool crispness in the air and the sense of a fresh start leftover from back to school days among them. For many of you though, it was all about cozy fall flavours, and you loved The Fall Tea Collection boxed set in particular, from classic Library Blend to caffeine free Coconut Chai Rooibos certainly inspired by shorter days and early nights in.
2. Crave-worthy Crunchy Cookies
Murchie's Biscotti almost didn't make the list because we sell them all year 'round, but you really, REALLY love them at this time of year. Seriously, get your order in while you can, they sell out fast! Regardless, dunking our biscotti into a big mug of tea or coffee is just THE best and you bought up fall favourites like Chocolate Walnut and Almond Anise by the boxful. Pairs well with Murchie's Bold.
3. The Contemporary Patterns from one of the Oldest Weavers
You may not have plans to board a plane to Ireland anytime soon after a summer of adventure, but add a gorgeous and brightly coloured made in Ireland Ulster Weaver tea towel to your kitchen and embrace the comforts of home. You loved Cats in Waiting, and the timeless pattern Arts and Crafts definitely brings happy autumn vibes indoors, even if you're missing summer and world travel. 
4. Evocative Tea
When the temperature drops in September, one tea stands out as a favourite: Storm Watcher. Picture dramatic skies and a bracing salt water wind gusting over the rolling waves. This full-bodied traditional black tea is a selection of tea terroirs blended for a mellow, satisfying mug on a stormy day. With toasted malty notes and slight smokiness, this brew is strong enough to stand up to the addition of milk and sugar, yet nuanced enough to be enjoyed neat. Perfect for sipping while safe and snug indoors.
5. It's Totes Fall Now
Going to the grocery store can sometimes feel like a bit of a chore, but since we have to, we're going to bring our favourite Murchie's Canvas Tote Bag. It has great storage and the long, sturdy straps make it easy to throw over your shoulder. Customer Helen E. sums it up nicely: "I might as well shop in style!" We think you should take advantage of the fall bounty and take it to the local farmers market. It's perfect for all that giant kale! 
6. We Have to Talk About Pumpkin Spice
Did you know that there's science behind why you crave this flavour? The spice blend has been used for a very long time across all different cultures, and mostly in home-baked goods associated with happy times. Apparently, by combining the recognizable aroma and flavour with sugar, your brain and body remembers how delicious the combination is and you begin to anticipate and crave it. That's what makes Murchie's Pumpkin Spice Tea kind of addictive!
7. Gift Giving is Always in Season
Summer means invites to the cottage, so fall is time to say thank you and that means you were doing a lot of shopping for the perfect gift for the host. You were all about tasteful gift baskets that have something to please everyone, and we have them all in one place to choose from, ready to be sent to their doorstep.
8. Healthful Herbals
Fall is when you start to spend more time indoors, with long afternoons leisurely chipping away at tasks that have been neglected over the summer. Tending to these things is so much more pleasurable over endless cups of delicious herbal tea, like Honey Licorice and Carrot Cake Rooibos which is possible without getting the caffeine jitters.
9. Cozy Mornings with CBC Radio Blend Coffee:A Snippet from a Murchie's Lover
From my small kitchen come the familiar sounds of the stainless steel stovetop espresso maker gurgling away and the dulcet tones of CBC Radio. You have to pay close attention to a specific point in the bubbling that when reached the heat must be shut off at once or risk burning the coffee. But that's fine, I languish in the ritual, and CBC radio is typically a pleasant hum. Those of us who are dedicated coffee drinkers will understand the comfort derived from the process of brewing the perfect home cup. I've learned that it's not always the most pricey or newfangled things that bring the most pleasure when it comes to our favourite daily fix.
10. Nice and Nostalgic
We know that many of you already have Orange Spice as a staple in your tea cupboard because it's been a bestseller for decades. The rich base of Ceylon and Keemun black teas is warmed by cinnamon and piquant cloves, with the distinctive citrus of fresh oranges. This fragrant blend will transport you back to Grandma's kitchen, where baking was a year-round, everyday occurrence, and sweet, spiced treats were always available.