---
Black Currant Tea Bircher Muesli
Breanne Teranishi - Sept. 6, 2022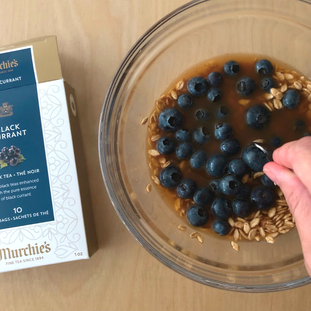 Author: Layla Osberg
Bircher muesli or overnight oats, especially these ones flavoured with our famous Black Currant tea, are a wholesome way to start the day. The plumped up oats will fill you up without needing a snack until lunchtime. The extra energy boost from the tea in the recipe is a bonus too!
The other great thing about Bircher muesli is that you can prepare it up to 48 hours in advance! That way you can grab and go, making it an especially handy meal for busy mornings. Just leave it in the fridge overnight, where the flavours all come together, the oats hydrate until satisfyingly chewy and in the morning, add yogurt and you'll be in breakfast heaven!
Simple to assemble, flavourful and nourishing - a homemade breakfast to start the day sounds juuuuuust right as Goldilocks herself would say.
Black Currant Tea Bircher Muesli
Ingredients:
½ cup of quick-cooking rolled oats
½ cup of black currant tea (steeped with 2 Murchie's Black Currant tea bags)
½ cup of blueberries
1 pinch of cinnamon
3 tablespoons of yogurt (Greek style or full-fat)
Maple syrup or honey
*Recipe can be easily modified or doubled


Directions:
In a small bowl or a container with a lid that will fit 2 cups add all the ingredients except the yogurt and the sweetener.
Cover and put in the fridge for at least 30 minutes or overnight, until the oats have plumped (up to 48 hours in advance).
Stir in the yogurt and maple syrup when you're ready to eat it.