---
Let's Have a Picnic!
Layla Osberg - July 6, 2018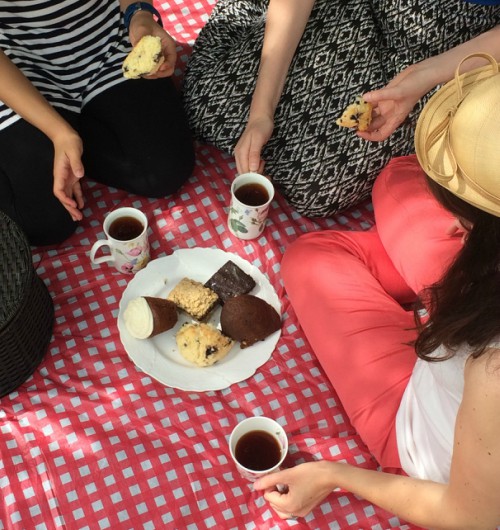 There's nothing quite like eating in the open air during the warm months.
The heat could be driving you outdoors to eat, or heading out to celebrate a birthday party, a bridal or baby shower. So many excuses to take tea outside for a picnic! For picnics it's nice to keep things simple and stress-free for your guests and for yourself. Think: sturdy thermoses of tea, plenty of reusable cups and food that guests can eat with their hands.
Here are some of our favourite Murchie's essentials to inspire you to bring tea out of doors for a perfect picnic:
This is a smooth and perfectly balanced black and green tea blend, with fruit and floral notes. It pairs well with afternoon tea fare like soft sandwiches or slices of cake.
This tea is a delicious treat tea – a no-calorie dessert! With a creamy taste and subtle aroma reminiscent of vanilla, the flavour of coconut adds a delicious, exotic note to this well-balanced black tea blend. Smooth and balanced when served neat; brew a little stronger and add milk for an even creamier taste!
A mild, sweet combination of Gunpowder and Jasmine greens and Keemun and Ceylon black teas, perfect for any time of day. Lightly aromatic with a soft, smooth flavour, that goes great with an afternoon scone topped with Murchie's Lemon Curd.
A summer favourite, positively bursting with hibiscus, fruit and citrus.
Our Iced Tea Collection contains four blends of loose tea, 2oz/56g each: Apricot Breeze, Coconut Cream, No. 10 Blend, and Pink Lemonade.
The stylish, healthy and convenient solution for loose leaf tea 'on the go'! 100% BPA free, has a glass interior and a durable poly carbonate exterior. The stainless steel tea filter is surrounded by BPA free polypropylene as is the lid interior. - ideal for green teas, oolongs, white teas and herbals, as well as iced tea and cold infusions!
The MIST Iced Tea Jug from FORLIFE is designed for a simple way of making a cold-steeped iced tea. The double ring silicone gasket keeps the lid from falling off when serving. The 0.5mm hole stainless-steel filter catches tea leaves and gives you smooth pouring. The filter and silicone gasket are easy to take apart for cleaning. True borosilicate hand blown glass can take hot water and ice cold water.
Try our Gourmet Scone Mix for light and fluffy Murchie's scones. Easy to prepare and are perfect with our Lemon Curd.
A favourite summer time berry, succulent and sweet, made into a delicious preserve! Perfect to serve with Murchie's scones or use for filling in Blackberry tarts, they will be a hit and your secret recipe.
A part of many afternoon tea traditions, Murchie's Lemon Curd is bursting with a fresh lemon flavour. Perfect to serve with Murchie's scones or use for lemon tarts. Add a cup of your favorite Murchie's tea and enjoy a perfect afternoon tea. Here a few photos of our staff enjoying afternoon tea outdoors.