---
A Guide to Green & Black Blends
Winnie Tsang - March 5, 2017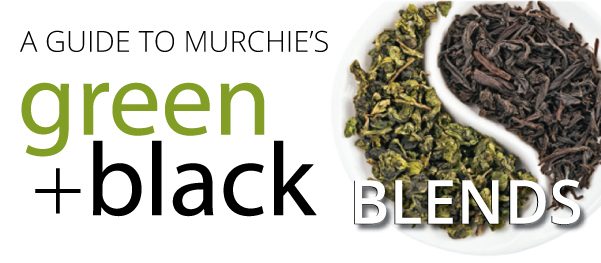 Green-black blends have been a Murchie's tradition since our founder John Murchie first blended Queen Victoria's 6 favourite teas into our still-popular Queen Victoria Blend. Each green-black blend is designed to emphasize a different flavour note, such as bergamot, citrus, florals, muscatel or smoke. These blends tend to be smooth and easy to drink without milk or sugar, but most can be brewed strong enough to take milk very well.
It takes uncommon expertise to mix different quantities of green and black teas to bring out the best character from each, without allowing any one component to overpower the rest. Our green-black blends are well-balanced, with a rich base and smooth finish.
Here are some of our most popular green-black blends, and what makes each one unique:
No. 10 Blend: A base of smooth, complex Keemun, which has made this blend one of Murchie's best-sellers for decades.
No. 22 Blend: Robust Ceylon strength, tempered with lively Jasmine to prevent bitterness.
Baker Street Blend: A mysterious smoky scent and lingering floral perfume on a solid base of black teas.
CBC Radio Blend: Well-rounded flavour dynamics, to wake you up in the morning and give you a classical break in the afternoon.
Paris Afternoon: A smooth, delicate balance of flavours, with notes of brioche and afternoons at the Louvre museum.
Queen Victoria: An incredible balance of sweet, smoky, strong and floral. It's no wonder this blend has endured over 120 years.
Library Blend: A rich, traditional Ceylon base that pairs perfectly with a good book.
Waterfront Blend: Intoxicating floral perfume, which comes from strong components of Jasmine and bergamot.
Wedding Blend: A romantic mingling of black teas, delicate green teas and florals - bergamot and rose come through clearly.