---
Witch's Brew, featuring Pumpkin Spice Tea
Breanne Teranishi - Oct. 11, 2022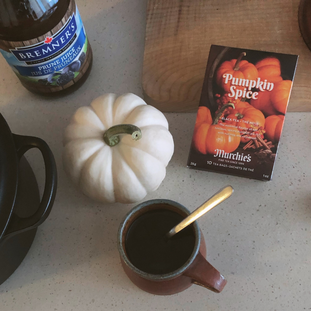 Author: Layla Osberg

Each year we anticipate the arrival of Murchie's Pumpkin Spice Tea in the shop and there's nothing better than the first sight of the rows of cheerful boxes on the shelves decorated in bright orange gourds. It's a sign that fall is officially here and the holidays are soon to follow.

While we'll be carving pumpkins for Halloween, we thought it'd be festive to serve something to sip on while we're at it! This recipe for Witch's Brew is made with our Pumpkin Spice Tea, spices and prune juice which gives the brew a delightfully ghoulish deep black colour. It's positively spooky how yummy this is!

Witch's Brew
Made with Pumpkin Spice Tea and Prune Juice

Ingredients:
1 cup of your favourite brand of prune juice
1 cup water
2 pieces of star anise
1-inch piece of fresh ginger, grated
½ tsp ground cinnamon
1 Murchie's Pumpkin Spice tea bag
Add sweetener to taste (try adding a teaspoon of honey)

Directions:

Add the prune juice, water, star anise, grated ginger, and cinnamon to a small pot and bring to a boil.
Turn down heat and simmer for 2-3 minutes.
Remove pot from heat, add the Pumpkin Spice tea bag, and steep for 4 minutes.
Remove the tea bag and strain mixture through a fine mesh sieve. Transfer strained tea to the cup of your choice.
Add sweetener to taste