---
Coffee Granita with Cream is this summer's perfect treat
Breanne Teranishi - July 27, 2022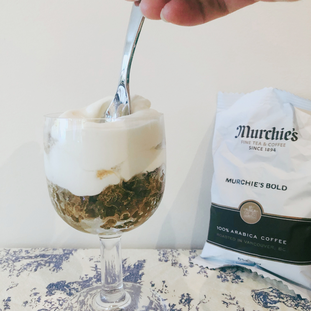 Author: Layla Osberg

Honestly, this is so exciting, we share so many tea stories with you that we can't wait for this COFFEE based recipe. Italian inspired Coffee Granita with Cream is a simple to prepare layered dessert made with frozen strong brewed Murchie's Bold Coffee and luscious whipped cream. It's simply perfection! The incredible textural quality of this light dessert makes it an extremely satisfying way to finish any meal - breakfast, lunch or dinner! Murchie's Bold with its smooth, chocolatey character is the perfect contrast to the slightly tangy cream that is enriched with crème fraîche. If you're a fan of iced coffee beverages, you'll love this treat.
Coffee Granita with Cream Recipe
Ingredients:
Granita:
2 cups double strength brewed Murchie's Bold Coffee, chilled (I used 4 tablespoons for 2 cups)
4 tablespoons brown sugar (dissolved into the Murchie's Bold while still hot)
*Can substitute with Murchie's Bold with Murchie's Bold Decaf
*Can substitute sour cream for crème fraîche
Cream:
1 cup whipping cream
½ cup crème fraîche
½ teaspoon vanilla extract
2 tablespoons icing sugar
Directions:

Brew your coffee double strength and reserve 2 cups. Add 4 tablespoons of brown sugar and stir until dissolved. Chill coffee until cold (do this step in the morning if you want your granita for the afternoon).
Pour chilled coffee mixture into a shallow plastic container with a lid. The coffee shouldn't be deeper than about an inch or so.
Place the container in the freezer and chill for about 4 hours, scraping the mixture with the tines of a fork every 40/60 minutes. You want the end result to be like coffee ice crystals.
Whip cream until slightly thickened and add the icing sugar, vanilla and crème fraîche. Continue whipping until just set but still pourable.
Assemble the granita in small clear cups with 4 alternating layers of coffee granita and cream ending with the cream on top. Top with chocolate shavings or cocoa powder if you wish.