---
Celebrating Canada 150
Winnie Tsang - June 23, 2017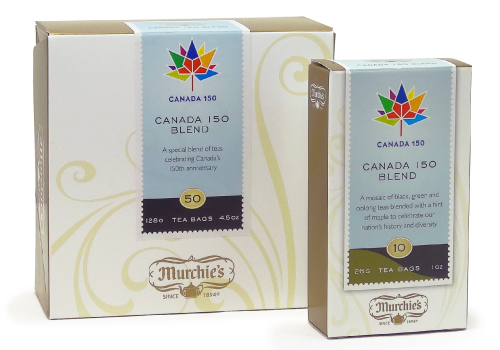 Every summer on Canada Day, Murchie's celebrates our nation and our home province of British Columbia. However, 2017 is a very special year – it is Canada's sesquicentennial: the 150th anniversary of our country's founding. To mark this occasion we created a limited edition tea called Canada 150 Blend.
Canada 150 Blend symbolically brings together teas from different origins from around the world, including black, green and oolong teas. These diverse teas are woven together with a hint of maple to create a balanced, nuanced cup.
In 2016 and 2017 news around the world has focused on divisiveness and differences. We prefer to look at the world with optimism and hope! Canada 150 Blend is a mosaic of teas, designed to celebrate Canada's diversity and history.
We hope Canada 150 Blend will be shared and enjoyed all year, and that its ideals of inclusiveness and celebrating uniqueness will continue to inspire, long after the last cup of tea has been savoured.