---
John Murchie's unconventional tea blending ideas resulted in one of Murchie's most famous blends, one that has been a best seller for decades.
Murchie's No. 10 Blend is a mild, sweet combination of Gunpowder and Jasmine greens and Keemun and Ceylon black teas, perfect for any time of day. Lightly aromatic with a soft, smooth flavour, that goes great with an afternoon scone topped with Murchie's Lemon Curd.
Our No. 10 Blend was selected in 1996 as the best beverage out of over 300 products sampled at the Canadian Association of Specialty Food.
Ingredients: black tea, green tea, bergamot oil
| | |
| --- | --- |
| Caffeine | Caffeinated |
| Cup Strength | Medium-Strong |
| Origin | Blend |
| Tea Format | Loose Tea |
| Type | Green/Black Blend |
Now why I know why this is a best seller Review by Patricia
This tea is great. I don't know exactly what makes this tea great. Perhaps the green-black blend? I just know I like it. Will be order this again.
Posted on 2022-06-14
love it Review by ['Blacksmith']
This iconic blend is what tea should taste like. It makes a person happy when they drink it because it is such a perfect blend of flavours. The feeling of happiness lasts at least half an hour, sometimes much longer.
Posted on 2022-03-20
My "Go To" Tea Review by wildpitcher
I like to drink a variety of teas, but this is my "comfort" tea. The flavors are complex and delicate, even with a splash of milk. I normally am not a fan of flavored teas, but this No. 10 balances the flavors very nicely. I like this tea very much. It will grow on you.
Posted on 2020-05-04
Love this tea. Review by Eve
I always go to Murchies when I visit Victoria from AB, but Spring 2019 I walked in and In front of me was a sampling of the #10. Wow that's what I have been missing all these years. The Jasmine brought back memories. I think I just forgot about it because I was living in other parts of Canada. Thank you so much Murchies for setting up the sampling stations.I ordered more when I got home and shared it with my granddaughter, she loves it too and has it after school all the time. I am reordering a 16 oz bag today.
Posted on 2020-03-15
Best of both Review by Ginger
I never tried black green blends before this one. It's quite delicious and very layered with flavour. Refreshing and light yet robust enough for milk if you can't live without it like me. I like the idea of the 100 year tradition.
Posted on 2019-11-13
Perfection Review by Zee
A dear friend introduced me to this blend and I can't believe I've gone my whole life without it. It's assertive enough to start the day or enliven an afternoon, floral and balanced. Just the right bit of jasmine and berga! It's unique and I am forever hooked.
Posted on 2018-12-19
delicious Review by Mervette
a great go-to tea. simple, smooth and mellow. sometimes I add a few jasmine leaves to it and it holds it nicely. a delicious tea.
Posted on 2018-09-12
simple and classic Review by Sunny V
A nice simple and smooth blend for when I'm in the mood for something stronger than just green tea!
Posted on 2018-06-13
Our favourite house blend Review by Gen
My husband is from BC and we were itroduced to No,10 Blend by his Uncle who lives in Vancouver and used to mail it to us, now we just order it and have it shipped. My favourite go-to comfort tea, tastes right no matter what house we have lived in!
Posted on 2018-01-04
My all time delight Review by MM
We honeymooned in Victoria in 1982 and I purchased #10 Blend on the recommendation of my Seattle Sister-in-Law. I have not gone a day without it since! It is the most delightful tea - hot or iced. My children (boys) became tea drinkers from their first taste of #10 Blend. We love it and will never be without it!
Posted on 2015-03-08
Enduring favourite Review by Tea granny
#10 Blend was the first Murchies Tea that I ever tasted 40+years ago. It was so delicious that I became a firm customer. Over the years I've tried and enjoyed many varieties of Murchies single and blended loose leaf teas. I buy 3-4 types of teas at a time but this blend is always gone before the others. #10 Blend has remained my enduring favourite.
Posted on 2014-10-13
Our favorite Review by tally
This is a light, wonderfully flavored, delicious tea, and it pairs well with baked goods and other sweet accompaniments. We particularly enjoy it in loose leaf form. We continue to order from Murchie's primarily for this tea.
Posted on 2013-01-28
Splendid Tea Review by Rossco
This is my "go to" tea for everyday enjoyment. I like the flavour and aroma of this wonderful blend. Haven't changed my opinion in over 30 years!
Posted on 2013-01-15
Family Favorite Since 1969 Review by CarolK
We discovered this tea on a family vacation to British Columbia in 1969. We have not been without it since. My mother and father had it at our family home, and when I married, I began getting my own supply as well. I really only use it for ice tea, which we make and drink every day at our home. Unsweetened, of course. The green tea gives it a little acidic flavor, the black tea is mellow. There is nothing like this.
Posted on 2012-11-26
Delicious Review by Sara
My Grandmother got me hooked on this tea when I was in my teens. As a Canadian resident, she would get me to pick it up for her before I went to visit her in the states, and it wasn't long before I gained an appreciation for this blend as well. All I can describe the flavour as is "smooth." When I imagine the ideal cup of tea, it tastes like #10 blend. The first cup in the morning is perfection and one cup is never enough!
Posted on 2012-10-29
Wife Loves to use for Iced Tea Review by Jasban
I love the numbers 10 and 22 blend, but pretty well drink just the 22. Why? Because the 10 is my wife's favourite for making iced tea. Personally, I consider this sacrilege, but there you go. If you're looking for a good blend for iced tea, she swears by it.
Posted on 2012-09-26
Simply the best! Review by Alannah
Guests at my house get to sniff and tell me which tea they prefer. In every case No. 10 is the favourite. I have been enjoying No. 10 for more than thirty years since I went to UVic. It's the tea we make every morning. When I'm away from home I miss it.
Posted on 2012-08-05
Wonderful! Review by Kim
We tried this tea once because they were out of No. 22. We love both of them, but our son (he's 20 now) is mad about No. 10. It's complex, but light, tasty and with a beautiful aroma. Enjoy!
Posted on 2012-07-16
Heaven in a cup Review by Karin
No. 10 Blend has become our "house tea"; I always ensure to order more when I open my last box. I often buy boxes of 10 for little gifts for friends, who always appreciate it and want more!
Posted on 2012-07-04
my favorite for a long time Review by ricklikestea
This is my fav (so far!). I started drinking Murchie's back in the 1970s and my favs then were #10 & Queen Vic, but now I really prefer #10 -- it has the fragrance that says "real tea" to me even before I taste it. Try it -- but remember to smell it before you take a sip.
Posted on 2012-03-26
Love Review by Ingrid
Love ,love, love this tea! I have two other friends in Intario who always have #10 on hand! A must try for all tea lovers.
Posted on 2012-01-08
My Mother's Ambrosia Review by Miriam
Honestly, I don't know how this tea tastes. I know that it looks good, and that it smells good, but I've never had the pleasure of trying it myself. Why, you may ask? Because my mother would EAT this tea with every meal if she could, and therefore hasn't even let me have so much as a sip from one cup. When I was in high school my choir went on a tour to Canada. She wanted to go with us, though not because of her only daughter's angelic golden voice, but because she desperately wanted to go to Murchies and buy this tea. Instead it became my mission to find a Murchies and purchase it for her. She even did Google map searches of where the local Murchies were from where my choir was staying. It was actually good of her to do that, because then I got to get off the beaten path and go scavenger hunting in downtown Victoria. I was so happy when I found Murchies and loved the shop instantly. Sadly my time and money was running out, so I only had a chance to buy the No. 10 blend and then scurry back to the tour bus. But anyways, my mother loves this tea to death and considering her next greatest love is me, I'd say that means this tea is very delicious and therefore you should all try it. Don't worry, I will too, and hopefully soon and in Canada since she's run out of the tea now and desperately wants more. Hahaha. Happy tea adventures to us all. :)
Posted on 2011-10-06
---
Write your Own Review
You're reviewing: No. 10 Blend Loose Tea
Flavour Profile Guide
Tea and coffee tasting is a very individual, multi-dimensional experience: one person's perfect cup can be too strong or weak, too brisk or watery for the next person. At Murchie's, we believe that the best tea or coffee is the one that YOU like the best! We use the following flavour profile guides to help compare our teas and coffees within a relative scale.
---
Tea Strength Ratings
This rating method indicates the strength of flavour each tea has when brewed according to our brewing guide.
| | | |
| --- | --- | --- |
| RATING | | RATING PROFILE |
| | | Light/Delicate: Very light in colour and delicate in flavour |
| | | Medium: Medium-light cup with slightly fuller cup |
| | | Medium-Strong: Medium-dark cup, medium body, and full flavour without harshness |
| | | Strong: Full body, rich cup, takes milk well |
| | | Very Strong: Rich, dark cup with very full, strong flavour and briskness |
---
Coffee Ratings
We rate the flavour properties of our coffees along two dimensions: roast and body.
Roast is simply a result of how long and how hot the beans have been roasted, which can be seen in the colour of the finished bean, and typically results in general flavour traits:
| | | |
| --- | --- | --- |
| Light Roast | | More acidity, brightness and a slight pucker |
| Medium Roast | | Slightly richer flavours, some acidity, enhanced creaminess |
| Dark Roast | | Distinctive roasted flavour, sometimes notes of toasted sugar or charcoal |
Body is the term used to describe how the brewed coffee feels in your mouth:
| | | |
| --- | --- | --- |
| Light Body | | Easy to drink with little lingering flavour, 'thin' or 'clean' feeling on the palate |
| Medium Body | | Heavier, creamier mouth-feel with more lingering flavour |
| Full Body | | Rich, full-mouth feeling: hits all of the palate and lingers |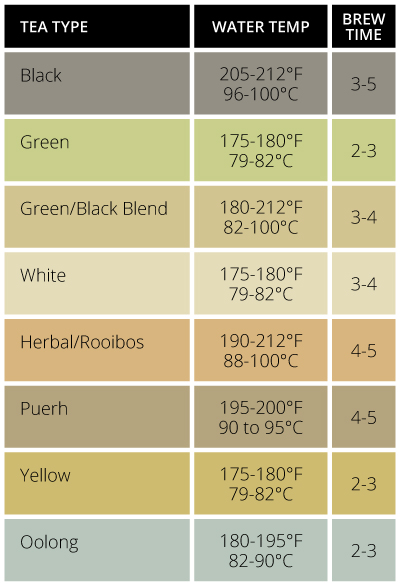 Tea Brewing Guide
Different types of teas should be brewed according to certain times and water temperatures to bring out their best flavours. Use this guide as a starting point, and then experiment until you find the perfect brewing method for your favourite tea.
Based on approximately one level teaspoon (2.5g) of loose tea or one tea bag per 6-8 ounce (180-240ml) cup. For stronger flavour, add more tea. Brewing for longer may increase the strength of the tea, but will likely also cause bitterness.
Brew times shown in minutes.
---
Coffee Brewing Guide
The simplest methods for brewing coffee are drip coffee, pour over and French press. These guidelines are a starting point; modify the ratio of coffee to water, the grind, and brewing time to your taste. If your coffee is not strong enough, increase the proportion of coffee per cup of water, grind the beans finer, or allow them to brew longer – or any combination of these factors. If your coffee is too strong, simply do the opposite.
Drip coffee or pour over method: hot water is gradually poured over coffee grounds and slowly drips through
Fine to medium grind coffee
1.5 to 2.5 tablespoons of coffee per cup of water
French press:
coffee grounds are 'steeped' in hot water, and then a filter presses down the grounds, allowing the finished coffee to be poured off
Coarse grind coffee
1 to 1.5 tablespoons of coffee per cup (e.g. 4-6 tbsp for a 4-cup French press)
Pour about 1/3 of the water over the coffee grinds; wait about 30 seconds and then pour in the rest
Wait 4-5 minutes, then push down the plunger to separate the grounds from finished coffee, and enjoy!
---