---
In Canada, Iced Tea refers to sweetened iced tea, although in the last several years unsweetened or less sweetened teas have become popular. (Also, try Icing some of our other teas, such as Raspberry or Black Currant!)
Sweetened iced tea is often served as an alternative to other soft drinks and is now commonly found on the grocery shelves.
This is delicious as a hot tea mix as well! Just add a spoonful of honey for a soothing cold remedy!
Directions/Serving Suggestion: You might also enjoy the mix by cutting the suggested 1 tablespoon for 8oz of cold water to 1 teaspoon per 8oz and add a squeeze of fresh lemon juice!
Net weight: 500g / 17.6oz
It does contain caffeine :) Review by ['Laura']
We were also curious so called in and were told that it has 45mg/cup of tea if package directions are followed.
Posted on 2020-09-10
Perfect iced tea Review by Rosie
This is great to have on really hot days. The instant iced tea mix has the perfect amount of sweetness also super quick to make. Wish it was in a bigger container though.
Posted on 2020-08-11
Best ice tea in town Review by Lc
Kids' love the ice tea. I don't let them drink other brands we have tried as it makes them stay awake at night. Kids can easily prepare this on their own. But like another reviewer said, wish it came in a 1kg can.
Posted on 2020-02-02
Not so great Review by Joy
I wish the description had included the depiction as instant tea. Maybe I should have figured it out, but I didn't. I was disappointed, because I am not a fan of instant tea.
Posted on 2017-07-26
Good stuff, small container. Review by Aaron
Good instant tea mix, very smooth, but it would be nice to have a kilo of this stuff. It ran out too quickly!
Posted on 2016-11-20
Perfect instant ice tea Review by LaceyS
Broke this out during our current heat-wave, and it is the perfect quick drink. It's not oversweetened like so many, and the lemon flavor adds the perfect zing. It would be nice to know if it contains caffeine, but either way it really is tasty!
Posted on 2016-08-20
---
Write your Own Review
You're reviewing: Iced Tea - 500g / 17.6oz Tin
Flavour Profile Guide
Tea and coffee tasting is a very individual, multi-dimensional experience: one person's perfect cup can be too strong or weak, too brisk or watery for the next person. At Murchie's, we believe that the best tea or coffee is the one that YOU like the best! We use the following flavour profile guides to help compare our teas and coffees within a relative scale.
---
Tea Strength Ratings
This rating method indicates the strength of flavour each tea has when brewed according to our brewing guide.
| | | |
| --- | --- | --- |
| RATING | | RATING PROFILE |
| | | Light/Delicate: Very light in colour and delicate in flavour |
| | | Medium: Medium-light cup with slightly fuller cup |
| | | Medium-Strong: Medium-dark cup, medium body, and full flavour without harshness |
| | | Strong: Full body, rich cup, takes milk well |
| | | Very Strong: Rich, dark cup with very full, strong flavour and briskness |
---
Coffee Ratings
We rate the flavour properties of our coffees along two dimensions: roast and body.
Roast is simply a result of how long and how hot the beans have been roasted, which can be seen in the colour of the finished bean, and typically results in general flavour traits:
| | | |
| --- | --- | --- |
| Light Roast | | More acidity, brightness and a slight pucker |
| Medium Roast | | Slightly richer flavours, some acidity, enhanced creaminess |
| Dark Roast | | Distinctive roasted flavour, sometimes notes of toasted sugar or charcoal |
Body is the term used to describe how the brewed coffee feels in your mouth:
| | | |
| --- | --- | --- |
| Light Body | | Easy to drink with little lingering flavour, 'thin' or 'clean' feeling on the palate |
| Medium Body | | Heavier, creamier mouth-feel with more lingering flavour |
| Full Body | | Rich, full-mouth feeling: hits all of the palate and lingers |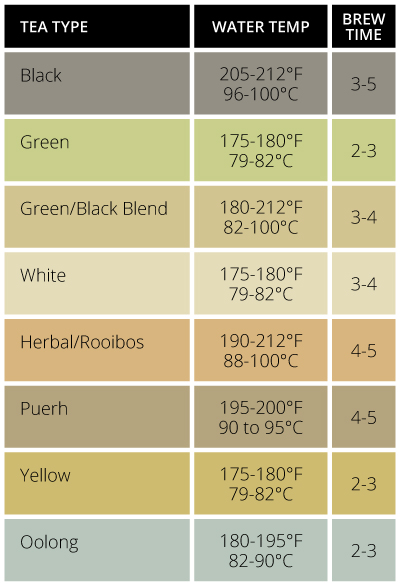 Tea Brewing Guide
Different types of teas should be brewed according to certain times and water temperatures to bring out their best flavours. Use this guide as a starting point, and then experiment until you find the perfect brewing method for your favourite tea.
Based on approximately one level teaspoon (2.5g) of loose tea or one tea bag per 6-8 ounce (180-240ml) cup. For stronger flavour, add more tea. Brewing for longer may increase the strength of the tea, but will likely also cause bitterness.
Brew times shown in minutes.
---
Coffee Brewing Guide
The simplest methods for brewing coffee are drip coffee, pour over and French press. These guidelines are a starting point; modify the ratio of coffee to water, the grind, and brewing time to your taste. If your coffee is not strong enough, increase the proportion of coffee per cup of water, grind the beans finer, or allow them to brew longer – or any combination of these factors. If your coffee is too strong, simply do the opposite.
Drip coffee or pour over method: hot water is gradually poured over coffee grounds and slowly drips through
Fine to medium grind coffee
1.5 to 2.5 tablespoons of coffee per cup of water
French press:
coffee grounds are 'steeped' in hot water, and then a filter presses down the grounds, allowing the finished coffee to be poured off
Coarse grind coffee
1 to 1.5 tablespoons of coffee per cup (e.g. 4-6 tbsp for a 4-cup French press)
Pour about 1/3 of the water over the coffee grinds; wait about 30 seconds and then pour in the rest
Wait 4-5 minutes, then push down the plunger to separate the grounds from finished coffee, and enjoy!
---