---
A wonderful comfort drink, Murchie's Hot Chocolate has been a favourite for generations. Ths convenient and delicious powdered mix is great as a gift or to keep on hand for surprise visits, and the perfect complement to Murchie's biscotti. Or, add a shot of espresso or top up with coffee for an easy homemade mocha.
Tin net weight: 500g / 17.6oz
Ingredients:
Hot Chocolate: sugar, skim milk powder, cocoa, whey powder, salt.
Mint Hot Chocolate: sugar, modified milk ingredients, cocoa, salt, natural flavour.
White Hot Chocolate: sugars, coconut oil, modified milk ingredients, emulsifier, anti-caking agent, soybean oil, salt, cellulose gum, artificial and natural flavour, cocoa.
Best Chocolate Drink Powder Review by John
Rich chocolately flavour. You don't need to use extra spoonfuls of powder to get the rich chocolate flavour that this drink delivers, neither is it cloyingly sweet. As a bonus it dissolves easily
Posted on 2020-01-31
So good! Review by Sara
I'm picky with my hot chocolate and this one is pretty much perfect! I like to stick to things that are actually meant for consumption, meaning I try to avoid iffy chemicals in my foods but a lot of organic or all natural hot chocolates are anything but smooth. Most have a weird grit to them even after vigorous stirring, the flavor tastes odd and they have to be made with milk -not this one! It doesn't tout itself as all natural but it doesn't have the weird anti-caking agents and fillers most do. It can be made with water and still taste delicious. It also stirs up smoothly. All around a very satisfying hot chocolate.
Posted on 2019-11-11
Truly the best Review by marloe
I love this hot chocolate mix. Truly the best. Our local Quality Foods has been selling this product for many years. Does not have added silicon or chemicals as so many other mixes have. I like the quality and the ingredients of this product and its taste superb. Oh no!!! Now my local Quality Foods store has decided to not to carry this product any longer. What to do??? I so miss my cup of hot chocolate in the morning. Bee shopping around for a product similar to this in quality and taste and not found a replacement. Thank You Murchies for creating such fine product.
Posted on 2019-04-23
Mmmm Review by Dani
I am obsessed with this cocoa. Isn't super sweet like store brands. Yet isn't a dark chocolate sipper. Just had a deep rich yummy old fashioned homemade taste. Love it!
Posted on 2017-12-24
Absolutely the best... Review by Urbanhoundmom in Northern California
We have visited beautiful Victoria BC annually for many years now and we always brought home a tin of this wonderful cocoa at Christmas as a gift for our son. Now he's grown and has his own family but never forgets to ask if we could pick up a tin for him on our next trip to BC. He says it brings back wonderful memories of Christmas's past for him. I'm glad he is now creating the same good memories for his family. Thank you Murchie's for creating such a superb product!
Posted on 2014-10-10
order every year! Review by wyomingchris
A friend gave us a tin of this chocolate 10 years ago as a gift. We have ordered EVERY year since around the fall-christmas season. It's wonderfully chocolately, no oil or fillers, and made only of the most simple real ingredients. It's by far the most natural and healthy hot chocolate around- can't find anything like it in the states!
Posted on 2014-09-11
Amazing Review by FarmersWife
This hot chocolate is amazing! Not only does it taste wonderful but it's made from real ingredients. All the ingredients are things you know and can feel safe with.
Posted on 2013-03-23
Chocolate.. mmmmm Review by Eleanor - Murchie's Team Member
Hands down the best hot chocolate mix you can find! Amazing with milk or water, this has been a family staple for me for years.
Posted on 2012-06-21
---
Write your Own Review
You're reviewing: Hot Chocolate Tins
Flavour Profile Guide
Tea and coffee tasting is a very individual, multi-dimensional experience: one person's perfect cup can be too strong or weak, too brisk or watery for the next person. At Murchie's, we believe that the best tea or coffee is the one that YOU like the best! We use the following flavour profile guides to help compare our teas and coffees within a relative scale.
---
Tea Strength Ratings
This rating method indicates the strength of flavour each tea has when brewed according to our brewing guide.
| | | |
| --- | --- | --- |
| RATING | | RATING PROFILE |
| | | Light/Delicate: Very light in colour and delicate in flavour |
| | | Medium: Medium-light cup with slightly fuller cup |
| | | Medium-Strong: Medium-dark cup, medium body, and full flavour without harshness |
| | | Strong: Full body, rich cup, takes milk well |
| | | Very Strong: Rich, dark cup with very full, strong flavour and briskness |
---
Coffee Ratings
We rate the flavour properties of our coffees along two dimensions: roast and body.
Roast is simply a result of how long and how hot the beans have been roasted, which can be seen in the colour of the finished bean, and typically results in general flavour traits:
| | | |
| --- | --- | --- |
| Light Roast | | More acidity, brightness and a slight pucker |
| Medium Roast | | Slightly richer flavours, some acidity, enhanced creaminess |
| Dark Roast | | Distinctive roasted flavour, sometimes notes of toasted sugar or charcoal |
Body is the term used to describe how the brewed coffee feels in your mouth:
| | | |
| --- | --- | --- |
| Light Body | | Easy to drink with little lingering flavour, 'thin' or 'clean' feeling on the palate |
| Medium Body | | Heavier, creamier mouth-feel with more lingering flavour |
| Full Body | | Rich, full-mouth feeling: hits all of the palate and lingers |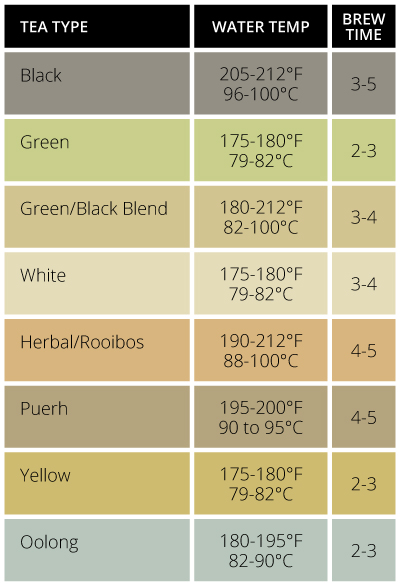 Tea Brewing Guide
Different types of teas should be brewed according to certain times and water temperatures to bring out their best flavours. Use this guide as a starting point, and then experiment until you find the perfect brewing method for your favourite tea.
Based on approximately one level teaspoon (2.5g) of loose tea or one tea bag per 6-8 ounce (180-240ml) cup. For stronger flavour, add more tea. Brewing for longer may increase the strength of the tea, but will likely also cause bitterness.
Brew times shown in minutes.
---
Coffee Brewing Guide
The simplest methods for brewing coffee are drip coffee, pour over and French press. These guidelines are a starting point; modify the ratio of coffee to water, the grind, and brewing time to your taste. If your coffee is not strong enough, increase the proportion of coffee per cup of water, grind the beans finer, or allow them to brew longer – or any combination of these factors. If your coffee is too strong, simply do the opposite.
Drip coffee or pour over method: hot water is gradually poured over coffee grounds and slowly drips through
Fine to medium grind coffee
1.5 to 2.5 tablespoons of coffee per cup of water
French press:
coffee grounds are 'steeped' in hot water, and then a filter presses down the grounds, allowing the finished coffee to be poured off
Coarse grind coffee
1 to 1.5 tablespoons of coffee per cup (e.g. 4-6 tbsp for a 4-cup French press)
Pour about 1/3 of the water over the coffee grinds; wait about 30 seconds and then pour in the rest
Wait 4-5 minutes, then push down the plunger to separate the grounds from finished coffee, and enjoy!
---