---
A favourite for decades. Murchie's has combined the deep fruity tones of succulent black currants with a smooth and subtle black tea finish to create a mouth watering, refreshing cup of tea.
Dried blueberries and blue cornflower are added to the sweet smelling tea blend to add to the allure of this fabulous tea.
Ingredients: Black tea, dried blueberries, artificial flavouring, cornflower petals
| | |
| --- | --- |
| Tea Format | Loose Tea |
| Caffeine | Caffeinated |
| Origin | Blend |
| Type | Black |
| Cup Strength | Strong |
Fruity and Refreshing! Review by ['JR']
I bought this on a whim when it was on sale. I wasn't sure what to expect- my only experience with currant flavored drinks is ribena. But this is lovely! There are whole dried currants in it which is fun. I don't reach for it much in the colder months but I discovered that it is amazing iced, I drank it all summer long.
Posted on 2022-09-22
The only one Review by ['Joe']
This is now that only tea I drink. It is by far my favourite tea. If i happen to run out, I don't drink tea until I get more. It has a great flavour, and smells incredible too. I am brewing a cup right now!
Posted on 2020-09-10
Very nice tasting tea Review by Tjk
Very nice fruity flavored tasting tea, shipping was very fast! Just beware though that this is black currant 'flavored' black tea...
Posted on 2019-03-31
Absolute Favorite Review by Ananda M.
One of my fellow tea lovers turned me on to Murchie's Black Current black tea. It is divine. Smooth, dark and rich, it has the lovely "tang" of berries similar to black berries, black raspberries, and in this case black currents. I LOVE this tea. It has become a beloved staple. (It's up there with my daily go-to vanilla-bean assam.) Highly recommended. If you enjoy a bright flavorful note in your tea - give this tea a try. You may end up hooked.
Posted on 2016-09-05
Black Currant flavour of Black tea Review by Kos
The Black Currant flavor is lovely. As a black tea fan it is perfect in the morning. Such a treat! I will be buying this on a ongoing basis.
Posted on 2014-07-23
Best tea ever Review by APR
I have used this tea for years. Used to buy directly from Head Office in Richmond. But now we are in Maple Ridge and I either drive over to Richmond to get it or order online. Hope they never discontinue this one.
Posted on 2014-03-27
Love this tea! Review by LNL
I purchased this tea on a recent visit to Victoria. I was looking for a "fruity" tea to round out the tea selections for a tea I was giving for my niece. This tea was a hit. The ladies drank more of it that than anything else. I am going to buy some for my personal use, and use it on a regular basis.
Posted on 2013-12-01
Wonderful tea Review by KTH
I bought this and the Library Blend while I was visiting Victoria from the States. This is an excellent tea with just the right balance of black tea and black currant flavor.
Posted on 2013-01-26
Nectar of the gods Review by mb
This black currant tea is so good, it must be the nectar of the gods! I live in the States and happened across this lovely tea in the Murchie's in Victoria. There is nothing so good as this tea with currant scones and Devonshire cream on a blustery winter day!
Posted on 2012-11-27
Best Black Currant Ever Review by DHK
My mother gave me a tin of black currant tea a few years ago from a business trip out there. No other black currant tea even comes close to the smoothness of yours. I savor every bag.
Posted on 2012-11-14
The Best Review by lfb
This is my favorite tea, and my favorite Black Currant blend. It's good plain or with milk/cream. I live in the States, and purchase this by mail when I'm not able to visit Canada. Love this tea!
Posted on 2012-06-16
the best black currant Review by Lo
My husband is a black currant tea fan, and we have tried them all. This one is far and away the best, since the black tea taste doesn't overpower the sweetness and fragrance of the black currant. If you enjoy sweet flavored tea, Murchies black currant may just turn out to be your new favorite.
Posted on 2012-03-02
---
Write your Own Review
You're reviewing: Black Currant Loose Tea
Flavour Profile Guide
Tea and coffee tasting is a very individual, multi-dimensional experience: one person's perfect cup can be too strong or weak, too brisk or watery for the next person. At Murchie's, we believe that the best tea or coffee is the one that YOU like the best! We use the following flavour profile guides to help compare our teas and coffees within a relative scale.
---
Tea Strength Ratings
This rating method indicates the strength of flavour each tea has when brewed according to our brewing guide.
| | | |
| --- | --- | --- |
| RATING | | RATING PROFILE |
| | | Light/Delicate: Very light in colour and delicate in flavour |
| | | Medium: Medium-light cup with slightly fuller cup |
| | | Medium-Strong: Medium-dark cup, medium body, and full flavour without harshness |
| | | Strong: Full body, rich cup, takes milk well |
| | | Very Strong: Rich, dark cup with very full, strong flavour and briskness |
---
Coffee Ratings
We rate the flavour properties of our coffees along two dimensions: roast and body.
Roast is simply a result of how long and how hot the beans have been roasted, which can be seen in the colour of the finished bean, and typically results in general flavour traits:
| | | |
| --- | --- | --- |
| Light Roast | | More acidity, brightness and a slight pucker |
| Medium Roast | | Slightly richer flavours, some acidity, enhanced creaminess |
| Dark Roast | | Distinctive roasted flavour, sometimes notes of toasted sugar or charcoal |
Body is the term used to describe how the brewed coffee feels in your mouth:
| | | |
| --- | --- | --- |
| Light Body | | Easy to drink with little lingering flavour, 'thin' or 'clean' feeling on the palate |
| Medium Body | | Heavier, creamier mouth-feel with more lingering flavour |
| Full Body | | Rich, full-mouth feeling: hits all of the palate and lingers |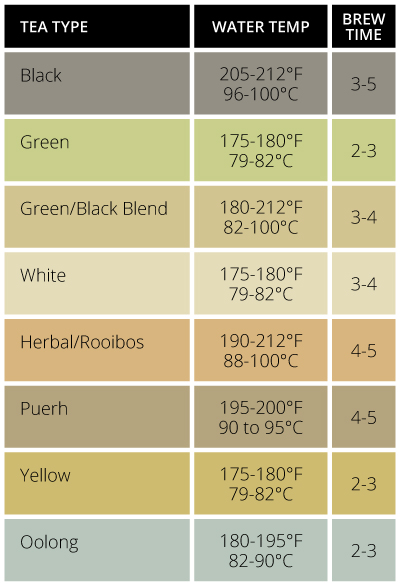 Tea Brewing Guide
Different types of teas should be brewed according to certain times and water temperatures to bring out their best flavours. Use this guide as a starting point, and then experiment until you find the perfect brewing method for your favourite tea.
Based on approximately one level teaspoon (2.5g) of loose tea or one tea bag per 6-8 ounce (180-240ml) cup. For stronger flavour, add more tea. Brewing for longer may increase the strength of the tea, but will likely also cause bitterness.
Brew times shown in minutes.
---
Coffee Brewing Guide
The simplest methods for brewing coffee are drip coffee, pour over and French press. These guidelines are a starting point; modify the ratio of coffee to water, the grind, and brewing time to your taste. If your coffee is not strong enough, increase the proportion of coffee per cup of water, grind the beans finer, or allow them to brew longer – or any combination of these factors. If your coffee is too strong, simply do the opposite.
Drip coffee or pour over method: hot water is gradually poured over coffee grounds and slowly drips through
Fine to medium grind coffee
1.5 to 2.5 tablespoons of coffee per cup of water
French press:
coffee grounds are 'steeped' in hot water, and then a filter presses down the grounds, allowing the finished coffee to be poured off
Coarse grind coffee
1 to 1.5 tablespoons of coffee per cup (e.g. 4-6 tbsp for a 4-cup French press)
Pour about 1/3 of the water over the coffee grinds; wait about 30 seconds and then pour in the rest
Wait 4-5 minutes, then push down the plunger to separate the grounds from finished coffee, and enjoy!
---